Why I Chose Recruitment
1st March 2012
Business Manager, Suzanne Ross, shares why she believes recruitment is a great career choice.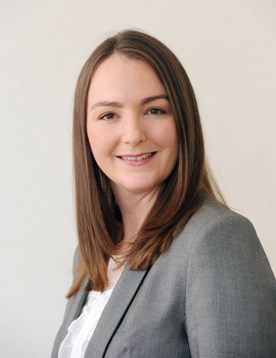 A chance two week work placement in a recruitment office as a university student gave Aberdeen Business Manager Suzanne Ross her first taste of what was to swiftly become a dynamic and successful career.
"I had a temporary work placement at Thorpe Molloy Recruitment's Edinburgh office as a third year student and it gave me a fantastic insight into how an agency works. It also made me think about what I wanted to do after leaving university. Until then I'd never considered recruitment as a career choice, back then most people didn't."
However nine years on, the 30 year old has never looked back, joining the Aberdeen based company as a graduate trainee in 2003 and working her way up the ranks to Business Manager.
She remembers those first few months being a steep learning curve.
"There was so much to learn that it took a good six months to grasp everything - from understanding business and markets, to getting to know companies and your clients, not to mention learning how to interview people" she says.
"It was a challenge, and by Friday I was exhausted, but it's a good feeling knowing you have really challenged yourself. I'd stop and look back at every stage and be amazed at how much I'd learnt. I absolutely loved it and really knew I had made the right move."
Suzanne says no two days are the same, "it's not a job I'd ever get bored with and there are plenty of opportunities for progression," she adds.
From the beginning she worked hard, and put in the hours knowing she would quickly reap the rewards. However when an opportunity arose to travel the world, she took a year out only to find herself head-hunted back to her Aberdeen office on her return in 2006.
"The business had grown so much when I was away, it was a bit daunting on return but I was lucky to be given the opportunity to come back to the same position. My bosses were really supportive of my travelling opportunity and didn't stand in the way of my career break at all."
Back at her desk, she didn't take long to progress in a career environment which she describes as not being "for the faint hearted."
"I would say it is a job for those who like to push themselves, who enjoy challenges and success, who are self-motivated, driven, tenacious, determined and enjoy working in a stimulating and dynamic environment. I don't think it's something you can do if you don't have the passion for it."
"It can be quite stressful, people let you down and there are always daily challenges, but I like to come home having had a hard day's work and feeling proud of what I have achieved."
As a multi- skilled professional, who has built up her own clients and candidate relationships, Suzanne effectively runs her own 'mini-business' from her desk.
"Consultants carry out their own business development, client meetings and interviews and have visibility of the revenue they are generating. The nature of recruitment cultivates a business within a business which is a great motivator and gives you a real sense of achievement. I believe it can help individuals develop wide ranging skills in business as, to remain successful, you have to adapt to the constantly changing recruitment climate."
"It's target driven which works very well because, personally, I work much better when I have set goals, the targets give me clear direction. Starting salary for graduates is competitive and the added benefit is uncapped commission, so you directly reap the rewards of your own success, which is an attractive element of the job."
Suzanne now recruits at professional level as well as managing the temporary finance team and has overall responsibility for implementing new regulations for agency workers something she describes "as a massive learning experience and one of the biggest challenges of my career so far".
Suzanne is in no doubt she made the right career choice.
"As well as managing my own 'mini-business' I've become involved in people development and am very proud of my team. They are the best and I love working with them every day. I'm proud of their achievements and like to think I've helped them get there."
"My advice to anyone wanting to join the profession? If somebody thinks they tick all the boxes then send your CV to Thorpe Molloy Recruitment!" she laughs.