Scotland's Best Workplaces
30th April 2012
What a great week we had last week! We were recognised as one of Scotland's Best Workplaces for the second year in a row. We are so delighted because you know what, we all sometimes need reminding that we work in a good place!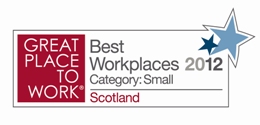 The result supports our belief that the office atmosphere at Thorpe Molloy Recruitment is one of trust, camaraderie, not to mention a strong team dynamic.
Companies participating in the Best Workplaces Programme are assessed by the Great Place to Work® Institute UK, access their website here. This national programme benchmarks performance, illustrating not just areas of strength, but where there is room for improvement. So it gives us a chance to make our business an even better place to work by responding positively to the constructive feedback wherever we can.
Participating in awards can be a time consuming business but it is worth it as it provides an opportunity to benchmark against other companies and best practice, it also provides a chance for reflection as you carefully consider the contents of your submission and of course, there is the opportunity to raise awareness through positive publicity. Award success can also recognise the passion and commitment of wonderful staff which is a terrific morale boost for everyone, and let's not forget it can be a great excuse for a celebration party!