Young Ambition
14th August 2012
Taking a chance at the beginning of her career paid off for ambitious, young Aberdeen business woman Amanda McCulloch, as featured in Business Women Scotland magazine, (www.bwsltd.co.uk).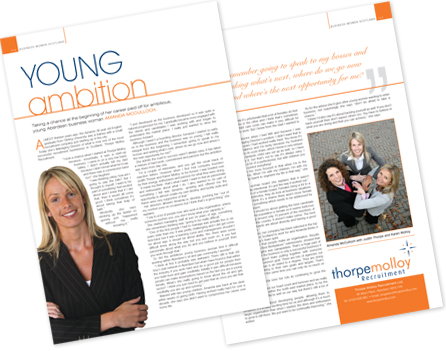 Almost thirteen years ago, the dynamic 36 year old English graduate from Stirling University was a trainee with a small recruitment company just starting up in the city. Today she's Managing Director of what is now one of the most successful recruitment businesses in Scotland, Thorpe Molloy Recruitment.
"I took a chance when I started at Thorpe Molloy because, essentially, it was a start-up business. I came in on a very low basic salary. I didn't actually tell my dad because I didn't know what he'd say and there was a commission base too!" she laughed.
"I was thinking crikey, how am I going to pay the bills? But I thought to myself, I want to be part of something I feel excited about and I knew that if I did that, then it would all come good. I think sometimes it's about taking that leap of faith."
Modestly, she says climbing up the ladder so quickly just "happened without me really knowing it."
"I just developed as the business developed so it was quite a natural progression for me. I gradually became more engaged with the clients and candidates I was working with and began to understand the market place. I really just wanted to drive the business forward.
Although I wasn't a founding director, because I started so early on in the business and the business was so young, I felt really integral from the beginning. I remember going to speak to my bosses and asking what's next, where do we go now and where's the next opportunity for me?"
She admits the road to success wasn't always easy, it has taken a mixture of hard work, commitment and passion but the ambition was there from day one.
"I'd a couple of interviews, and you get the usual stack of rejection letters. However when I first met company founders Judith Thorpe and Karen Molloy, to be honest, I was bowled over by their energy, enthusiasm and passion for what they were doing.
It made me think - that's what I want, I want to feel as passionate and enthusiastic about what I do. I also wanted to be part of something I felt was dynamic, growing and offered me the opportunity to almost create my own destiny, and luckily Jude and Karen were very supportive of that."
Her directors allowed Amanda to develop, pushing her "out of my comfort zone on occasions but I think that's a good thing" she explains.
"I say to a lot of people now, who work in the organisation, unless someone pushes you, you don't know what your capacity is."
She started managing staff at just 24 years of age, something she remembers thinking was "going to be really difficult."
"One of the first people I had to manage was actually five or six years older than me. It was pretty challenging and I did get some kick-back but it was a learning curve and management shouldn't be about age, it should be about ability. Yes, there were some difficult times along the way but you just push on. If you feel passionate about what you do and you believe in yourself, then you work through that."
So did the ambitious young business woman find it difficult working within Aberdeen's oil and gas community I wonder?
"I think at first it probably was awkward. There still is that old boy's club network in Aberdeen but what I have found is that within the industry if you work hard and do a good job for people then you build trust and gain credibility. Initially it was difficult because people can make assumptions based on the fact you are a young female. What's she really going to know about the oil and gas sector? I think you just need to get past that as once you win that credibility you are up and running."
Married with two young children, Amanda was back at her desk within weeks of giving birth. Having worked really hard for over a decade, she says she didn't want to compromise her career over home life.
"It was difficult. I think it's unfortunate that a lot of females do feel they have to pick one or the other and I think that's sometimes enforced because child care costs can make it very difficult for women to go back to work. But I knew from the start I wanted to return to work.
I was Associate Director when I had Will and because I was gunning for the Managing Director's position, I didn't want that to compromise the ten years I had worked really hard. You know it's all about getting a balance and I'm lucky because my husband Steve and I manage to do a job share, which I know is very unique, and we've got some fantastic child care set up as well, so I have managed to balance it, but that's not to say it's always easy. I probably used to be a bit of a perfectionist, but with children you realise you just can't control everything!
It's probably made me more focused in that when I'm in the office, I'm in the office. When I'm with my children, I'm with my children. I've probably learnt to segment my life in that way." she continued.
As part of an all woman board she explains that it wasn't "something which was intentional, it's just the way it worked out."
"It is nice to be part of a female board. Females bring a lot to a business. They are instinctive, they do look at business situations differently to men. I think it's a shame there aren't more female board members. It's something which needs to be addressed by business not government.
At the end of day it should be about getting the best candidate and you know, half the population is female so it seems ludicrous that women make up around only 15 percent of the members of company boards in this country. It doesn't make sense. The best and most effective boards are about diversity and having a good collection of opinions."
For the last two years, her company has been selected in the top ten best companies in Scotland to work for and Amanda thinks it reflects Thorpe Molloy's team spirit.
"I'm a firm believer that people make an organisation. Results from our "Scotland's Best Workplaces" submissions, showed that one of our key strengths was camaraderie. That's a huge part of Thorpe Molloy. I think the business is only a successful business if you have a really good team pulling together, with everyone working towards a common goal. There are lots of agencies out there where every man is an island to a degree. They are doing their own thing, working to their own goals and targets. That's important yes, but at the same time you can only do so much on your own."
In the future Amanda sees her role as continuing to grow the business.
"We want to increase our head count and turnover and we really want to be the best within the north east market place, to be the recruiter of choice. We're well on our way but there's still a lot of work to be done.
And for me it's about developing people, allowing them to progress. It's a really exciting time for us and although it's a much larger organisation than when I started, the drive and enthusiasm to grow is still there. We just want to be continually improving," she added.
As for the advice she'd give other young women wanting to enter business, not surprisingly she says "don't be afraid to take a chance."
"I think I'd also say it's about backing yourself as well. If you don't back yourself then don't expect others too. You have to believe in what you are doing and that you can achieve," she says.
Taking a chance at the beginning of her career paid off for ambitious, young Aberdeen business woman Amanda McCulloch.