Channel Your Originality
27th November 2012
Lucca Sutherland from Cults Academy shares her thoughts on our art competition "My Future Aspirations". Lucca was a finalist in our 2011 competition.
When I had to pick my subjects I was forced to think about my future and what jobs I wanted to do. When it came to the competition I had even more ideas, such as being the CEO of a company. I also had thought about working at Pixar after watching a documentary on the offices.
The competition was a lot of fun because it made me think as well as be creative. It was fun getting advice from others and helping others.
I enjoyed the experience of getting to do whatever I wanted to do. I liked that I didn't have to stick to painting and got to branch out. I also learnt that gravity is not on my side when I tried to get the statue to stand on top of the globe.
It felt amazing knowing that someone took the time to judge hundreds of entries and from all of those chose mine to be a finalist. It made me feel as if I was on cloud nine and that I was good at art.
Channel your inner Originality. If I hadn't have done the sculpture I know I wouldn't have gotten to be a finalist. If you are original, people will stop to look at your artwork and you will have a higher chance of getting through to the finals.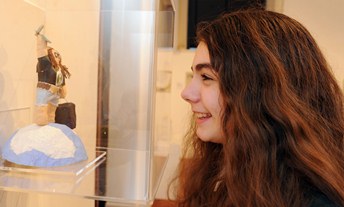 "When I am older I want to be ........An Animation Specialist at Pixar, work at Greenpeace or be the CEO of a Company. I want to travel the world. I have shown this by .... For the animation I have given my model a paint palette. For Greenpeace I'm wearing a t-shirt. For business I'm wearing a blazer. To symbolise travel I'm standing on a globe holding a suitcase."