Hat-trick for Thorpe Molloy Recruitment
13th May 2013
For the third consecutive year Thorpe Molloy Recruitment Ltd has reached finalist status in Scotland's Best Workplace Awards, ranking 2nd in the Small Company category.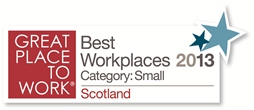 The company was also short-listed for the Most Trusted Leadership Award.
Amanda McCulloch, Managing Director at Thorpe Molloy Recruitment says, "We've participated in this workplace assessment programme since 2011 and each year our results have improved as we've responded to the constructive information which has been generated by the analysis."
The Great Place to Work® Institute defines a great workplace as a place where you 'achieve organisational objectives with employees who give their personal best and work together as a team or family, all in an environment of trust.' Two thirds of the ranking score is determined by the Trust Index Employee Survey and one third from a Culture Audit which is completed by the management team.
There are three key elements of a great workplace, people:
Trust their management
Have pride in what they do
Enjoy working with their colleagues
Amanda continues, "The key elements of a great workplace are critical for positive employee engagement and they are also fundamental to our continued business success and the ability to deliver on our long term commercial objectives. It is very important to us that our employees believe that they come to a great workplace every day so it is satisfying to know that we do rank highly in a national programme, reinforcing our methods of working and ethos."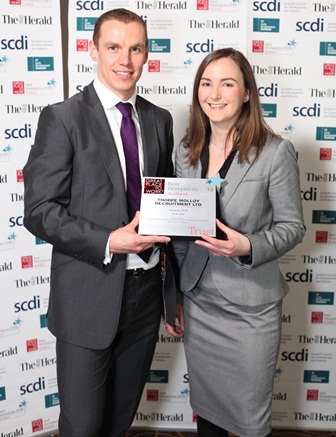 Ian Orme and Suzanne Burr collect our award on behalf of the team at the GPTW ceremony in Glasgow.
The Great Place to Work® Institute UK is part of the world's largest consultancy specialising in workplace assessment and enhancement. Every year Great Place to Work® surveys some 6,000 organisations around the world representing around 10 million employees. This provides unrivalled insight into what makes an organisation's employees tick and how leaders can improve their business performance by understanding and improving their workplace culture.