On The Ball
13th February 2014
When top north east footballer Cammy Keith was looking to expand the team he manages at Thorpe Molloy Recruitment he wanted someone with complementary skills whom he could trust implicitly.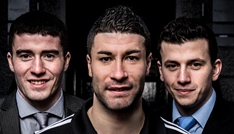 L - R Scott, Cammy and David
So it seemed natural that his first choice would be younger brother, fellow sports fanatic, Scott.
And keeping it in the family has proven to be the right move, as the sporty brothers are on the ball - on and off the pitch.
Since Scott joined in September the boys have really scored and along with fellow recruitment consultant, David Miele, have generated significant new business for the growing Professional Trades specialism, which sources permanent and contract professionals, ranging from technicians and machinists to welders and inspectors, for clients operating in the oil and gas industry.
Cammy explains, "I had no hesitation in recommending my brother be considered for the post as he has a great work ethic, is extremely personable and I knew he would settle in quickly. Thankfully I don't live with him any more so we're not together 24 / 7 and I'm making sure he doesn't get an easy ride!"
"We know each other inside-out, have mutual respect for each other and I know Scott would never want to let me down. Although it is early days the results are very positive, with the team securing work from new clients, increasing the number of roles we work on exclusively and David has increased our temp revenue by 10% compared to this time last year with his great work on our Stores / Yard vacancies. If we maintain this level of growth we'll require an additional team member by the end of the year."
Scott comments, "Although I feel incredibly lucky to have joined the Professional Trades team it has made me even more determined to succeed and show everyone, including myself, that I'm here on my own merits."
As a student Cammy won a football scholarship to America where he was listed among the top 50 college players. Back at home he's been the Highland League Player of the Year and Top Scorer for two consecutive years and currently plays semi-pro in the Highland League for Formartine United. Scott plays for Newmachar United and David regularly plays with Newburgh Amateurs.
Cammy continues, "We're all interested in sport and play football regularly and I think there's a number of attributes from our sports that we bring to our work. There's great team spirit and although we all focus on different positions we are working towards a common goal and are motivated to succeed. We can bounce back from disappointment, persevere to overcome difficulties and our team banter is pretty good too!"