Motivated By A Career In Recruitment
2nd June 2014
Showing why relationships really matter in recruitment, Cammy Keith explains why his Professional Trades team really enjoy what they do.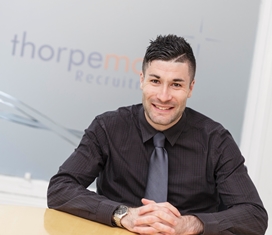 Cammy Keith, Business Consultant Professional Trades
Cammy Keith joined Aberdeen based Thorpe Molloy Recruitment as a graduate in 2010 and it wasn't long before he was proving himself as one of the company's rising stars.

The ambitious 26 year old has enjoyed rapid promotion during his four years with the recruitment company, first as a senior consultant and now in his new role as business consultant.
After only a few short months Cammy recognised a niche market area. His idea was to develop the area of oil and gas blue collar recruitment, establishing the Professional Trades specialism.
Cammy says "I definitely felt back then, and still do, that I had a point to prove by making Professional Trades successful. I'd had a lot of faith put in me and this was a bit of a departure for the company, moving into an area related to manufacture, service, maintenance, yard and stores."
"Like many people, I'm motivated, determined and energetic, but I'm also fortunate enough to work in an environment where I'm not micro-managed and my judgements have been trusted."
As a business consultant he manages his own team and is responsible for taking them through their training, generating new business and smashing fee targets. This specialism has experienced fee growth of 82% over the last 12 months.
Cammy, who is also one of the north east's top semi-professional footballers, explains, "We're the only recruitment agency with a team dedicated to Professional Trades, by specialising we have greater knowledge and a defined understanding of the customers we can assist."
"My team also really enjoy interacting with the clients and candidates we meet every day, we enjoy their attitude and respect the work they do. The majority of my clients are service companies and, in my opinion, the people who work for them are the beating heart of the oil and gas industry, without the tools and services they provide the industry would be paralysed."
"As well as developing loyal client relationships we're gaining a good reputation with candidates too, with many referring us by word of mouth recommendation. We're not job fillers, preferring to advise and support our candidates, this can lead to placements in career opportunities previously not considered; promotions; enhanced salary and working in new environments much better suited to the person."
There's so much untapped potential in this specialism that the team are looking to expand further, if you'd like to work alongside Cammy in a really dynamic team then send your CV to iwouldlovetowork@thorpemolloy.com.