Careering Into the Future
12th June 2014
What did you want to do when you grew up?
Secondary school pupils in Aberdeen on the brink of making decisions which could shape their future careers are being invited to explore their own thoughts by participating in an extremely successful art competition. "My Future Aspirations" is in its sixth year and since it was launched by Thorpe Molloy Recruitment it has attracted over a thousand self-portraits from pupils across the area.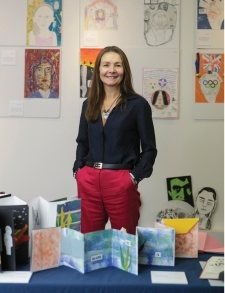 Karen Molloy, Director
It not only allows S1 and S2 pupils to display their artistic talents, and indeed their literary ability, but also enables them to consider whether one day they might want to be a cook or a Cabinet minister, a dancer or a designer.
The competition encourages pupils in Aberdeen city and shire to create a self-portrait which expresses their career hopes. Thorpe Molloy director Karen Molloy said: "Contributing within our local community is part and parcel of the ethos of our company, although we are involved in many other projects we launched the competition because we wanted to lead our own initiative, something that's unique to us and which we are passionate about. The competition fits in with the Curriculum for Excellence and links the Art and English departments because not only do pupils have to complete a self-portrait they also have to write a brief description about what they want to be. I think what is really important about the competition is its relevance, that it is fun and that it stimulates thoughts and discussions around future careers before the pupils have to make their subject choices. With a focus on careers it also complements our core business activity of recruitment."
She said that as the competition has grown with more schools and more pupils involved each year they try to keep it fresh with different displays of the winners' work and a couple of years ago they introduced on-line voting "The People's Choice", where the general public can vote for their favourite.
This year, every submission received will be displayed at the Tivoli Theatre throughout December but if you cannot wait until then, enlarged reproductions of last year's top 12 finalists will be on show at Aberdeen Airport throughout the summer.
"I think we have to constantly develop the competition," said Karen. "Last year, The British School of Houston participated and the collaboration was so successful that we hope to engage schools from other oil hubs in the future, I think comparing work from around the world will be very interesting. Each year it has astounded me how creative the children are and sometimes you wonder where their ideas came from. Some of them are almost Picasso-like and they are thinking completely out of the box. I love the diversity and the range and the thought that goes into each one, it's not just about being a talented artist it is about imagination and expression."
This year, for the first time, pupils will have the opportunity to portray their personality and ambition through symbolism as still life and abstract pieces are being accepted.
Information about the competition is now with the schools and in November each participating school will have to submit a shortlist of eight self-portraits, accompanied by a narrative of no more than 50 words which describes the career aspiration, reasons for the career choice and plans to get there.
A cash prize will be awarded to the winning pupil to be used for art projects in his or her school.
Joining Karen on the judges panel this year will be Gayle Gorman, director of education, culture and sport for Aberdeen City Council; Shelagh Swanson, artist and owner, Oil and Glass; Joanna Fraser, membership and media communication team leader, Aberdeen & Grampian Chamber of Commerce and Brian Hendry, director, Aberdeen Tivoli Theatre.
To view the Bulletin visit http://issuu.com/aberdeenchamber/docs/juneissuu