Super Star
26th June 2014
When it comes to passing exams, no one does better than Thorpe Molloy Recruitment.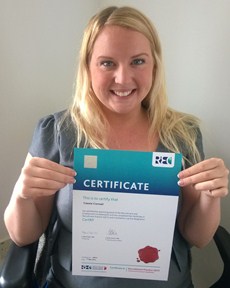 Cassie Connel
Just weeks after successfully completing the Recruitment and Employment Confederation (REC) Compliance test we are very proud that the highest scoring student in recent REC exams is a member of our team.

Twenty five year old Cassie Connell from our Accountancy and Finance specialism has completed the first stage of professional accreditation, coming out top from almost 200 other students from around the UK who recently completed the Certificate in Recruitment assessment.
A self-confessed geek who loves studying, she has been working on distance learning assignments for the past three months, covering topics such as sales, law & ethics, operations management and candidate & people management.
Unlike many exams, which you might remember from your own studying, these are very relevant to Cassie's day to day work, in fact she was able to bring much of what she's learned on the job into her exam preparation.
So, if Cassie is your consultant, lucky for you, you're dealing with a super star! You'll find Cassie's interview with the Institute of Recruitment Professionals here.