Good For Your Soul and CV
13th August 2014
Volunteering can be hard work. It takes time and energy. But it does make a difference, just ask the girls at Aberdeen-based Thorpe Molloy Recruitment.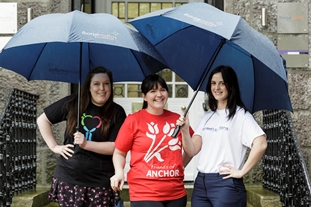 Happy in their work. Even the rain doesn't get these girls down. Charlie McIntyre (Down's Syndrome Scotland T-shirt), Lauren Wards (Friends of Anchor T-shirt), Lauren Ross (Aberdeen Cyrenians T-shirt).
This local recruitment consultancy prides itself in being a business with a social conscious, believing that it's important to give something back to the local community, many of the staff are actively involved in volunteering and charitable projects.
Twenty seven year old Lauren Wards was driven to do something for charity after one of her temporary workers was diagnosed with cancer. She's aiming to run as many 10km races as possible, and is hoping to do one within 50 minutes to help raise funds for local Aberdeen charity Friends of Anchor. The Anchor unit, where her friend is being treated, helps support people with cancer.
"When my temp confided she was unwell it struck a chord with me that she had shared something personal. I went home that night and went out for a run and decided I wanted to be able to give something back to her. Being able to run is fine but being able to do it for someone else is amazing. That's an uplifting thing for me and it definitely enriches my training - it makes me run faster!"
Meanwhile it was discovering someone sleeping rough in the company car park which motivated her colleague, Laura Ross, to begin volunteering. It had a profound impact on her.
"It was pouring with rain when I went home that night and it dawned on me how fortunate I am to have a job and somewhere to stay. I realised I wanted to do something for people who have nowhere to go.''
As well as being a recruitment consultant for Thorpe Molloy Laura's also now working as a volunteer for Aberdeen Cyrenians Street Alternative Service, a local charity which provides food and shelter for the homeless in Aberdeen.
"We cook a three course meal and just spend time with these guys who might not see anyone to talk to for the rest of the week, it's their only communication. It's important to help local people who don't have the same opportunities and get them back on their feet. They go away with a smile and that makes me smile."
Charlie Macintyre who also works at Thorpe Molloy is another who has the volunteering bug. She admits it was only when she reflected on how little she did in her spare time that she realised she should consider volunteering.
"I thought to myself, I literally come home, watch TV and do nothing of any value, it made me realise I couldn't say no to charitable work."
Since then she's been inspired to help organise an event which has raised thousands of pounds for Down's Syndrome Scotland.
"I just think it makes sense if you have the time to do it. Every little helps." she reflects.
For Lauren and Laura, lending their time to local organisations is actually increasing their own morale and skills.
"You come into work on a Monday morning more positive and more upbeat, and it gives you something positive to chat about" explains Laura. I have learnt new life skills too. I'm better at speaking to lots of different people and I can make spaghetti bolognaise from scratch!''
"We all support each other and we are always talking about our volunteering, colleagues really get behind our efforts." added Lauren.
Karen Molloy, co-founder of the company agrees, "One of the benefits of running your own business is that you determine the culture and from day one Thorpe Molloy has acted to support local causes. This has created opportunities for our employees which have really benefited them personally. For example, last year 5 of us experienced the once in a lifetime adventure of climbing Mount Kilimanjaro for Aberdeen's Maggie's centre and this year 18 of us are cycling Ride the North for The Sandpiper Trust. Not all our activities involve fitness or adrenaline, one of the most popular activities among our younger recruiters is leading school workshops on CV and interview preparation."
Volunteering's good for your soul but it's also good for your CV. Undertaking meaningful activities in your spare time is a great way to show you are willing to gain skills and practical experience while developing qualities such as effective time management, prioritising, communicating as well as your personality.
Karen concludes, "Being involved in volunteering indicates dedication, commitment, a willingness to go above and beyond your daily responsibilities and, importantly, that you have life experience, these attributes can really set you apart from others in a competitive employment market."