Team Spirit On Wheels
4th September 2014
''Ecstatic, chuffed and relieved," that's how Gemma Stuart summed up her feelings after completing one of the most gruelling charity challenges in Scotland.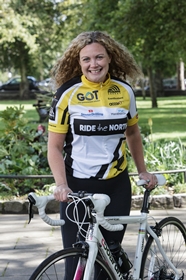 The 32 year-old QHSE recruitment specialist and her colleagues from Thorpe Molloy Recruitment (www.thorpemolloy.com) were amongst 700 riders taking part in this year's fund-raising Ride the North cycle challenge.
The two-day 170 mile route from Inverness to Aberdeen includes some very tough hills and is not for the faint hearted. Even though it's not a race, keen entrants train hard for months, aiming to raise as much money for charity as possible.
It was an emotional journey for Gemma who admits, without the support of close friend Nikki, she wouldn't have been able to do it.
"Nikki and I cycled together along the entire route, which really kept me going. I'm delighted I finished it, in fact it hasn't sunk in yet. I had no physical problems but mentally it was tough. I think I was getting a bit delirious by day two," she laughed.
''I have never done anything out with my comfort zone like this before so I think my friends thought I must be mad and that's probably why I've received such amazing donations and support."
One of the great aspects of the challenge is how it brings people together.
"One of my favourite parts was seeing the faces of my colleagues from Thorpe Molloy who volunteered in the support team. They were always so encouraging and reassuring and such a welcome sight after cycling for miles in the rain!"
"And I was also thrilled to see one of my team mates, who struggled on day one, completely turn it around and have a fantastic day two, being the first Thorpe Molloy-er to reach the finish line.''
Like many of her fellow team mates, Gemma hadn't been on a bike since she was a child but a fear of the unknown drove her to train all summer for up to three times a week including long runs at the weekend.
"Thorpe Molloy Recruitment adopted a Cycle To Work scheme, we organised a group training session every Tuesday and even benefitted from a lunch and learn session with a dietician who explained when the best time was to eat the right types of foods to give us most energy. Everyone in the company got behind us with colleagues organising car-washathons; a race night; bake off competition and a Pulp Fiction cinema night."
"In addition to the great team building most of us are also now a lot fitter!"
Thorpe Molloy's fund raising total currently stands at an amazing 17 thousand pounds and the total is increasing by the day. The cash is going to one of Ride the North's affiliated charities The Sandpiper Trust (www.sandpipertrust.org) which helps save lives in rural areas by providing doctors with emergency equipment.
Neil Innes, the driving force behind the challenge explains its success, "The route shows off what is great about riding a bike through this part of Scotland - great scenery, quiet roads and wonderful hospitality. The unique ingredient of Ride the North is the social dimension, with lots of camaraderie between riders and everyone stopping off for refreshments along the way. At the heart of the event are people who have challenged themselves, raised a lot of money for great causes and realised that cycling is a great way to keep fit and enjoy our beautiful countryside."
While Gemma agrees wholeheartedly with this, her advice to others thinking of participating in Ride the North next year is "Put in the training and make sure you are committed because your diary will be taken over by cycling. I'm looking forward to getting back my social life!"