Flying High At Aberdeen Airport
13th November 2014
An exhibition of talented local youngsters' art is on display for the first time at Aberdeen Airport.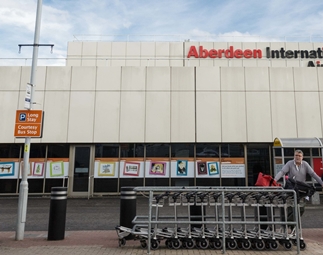 'My Future Aspirations' is an annual, creative competition which challenges S1 and S2 secondary school pupils in Aberdeen City and Shire to create a self portrait which expresses their career hopes for the future.
Finalists from last year's competition, run by Thorpe Molloy Recruitment, are highly visible to travellers arriving at the city's airport.
Karen Molloy of Thorpe Molloy Recruitment said, "Our competition has received tremendous support over the years but, by working in partnership with Aberdeen International Airport, we have significantly increased the initiative's visibility. The self-portraits are so large that it's impossible to miss them when you arrive! We've received great feedback from people who are enjoying the art, loving the diversity of the work and are impressed by the imagination of our local young people."
Sarah Rochester, Media and Communications Manager, Aberdeen International Airport commented, "It was great to be involved with a project which helped encourage the prospects of the next generation. The number of people using the airport each month is on the increase and that means a growing number of people being exposed to this innovate idea. We wish the pupils well in achieving their future aspirations."
The competition has proven very popular and fun with local schools since it was launched six years ago. It helps stimulate youngsters' creative thoughts and ideas about their future and offers a unique insight into the career aspirations of local school children. The entries over the years have revealed ambitions to be vets, farmers, engineers, journalists, architects, scientists and much more.
Karen Molloy continues, "Each year the judges are surprised by the bold use of different media, we've seen self-portraits made from wire, clay and polystyrene. There's always a variety of techniques used too such as photography, screen printing, papier maché as well as drawing. Teachers will often bring techniques they have learned during CPD tutorials into the competition. This year a small group of teachers spent time with artist Shelagh Swanson from Oil & Glass gallery so it would be quite exciting if we received glasswork for the first time."
An exhibition of the 2014 short-listed entries will be displayed in Aberdeen's Tivoli Theatre from 12th December.