It's Important To Celebrate Success
17th November 2014
In a busy (sometimes frantic) workplace there's never enough time - always a new goal to strive towards, a problem to solve, sometimes a failure to learn from and a success to be proud of.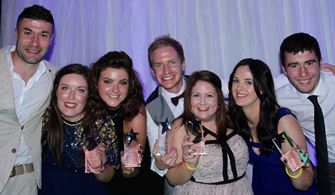 We recently exhaled a satisfied sigh as we reached the end of our financial year, the results were good but guess what? It's full steam ahead focusing on the first quarter of our new financial year. Sound familiar to you?
We recognised several years ago that we wanted to do more than share a few words of encouragement with our hard working team at the end of the year. We really wanted to take the time to celebrate properly and so our Thorpe and Molloy Business Awards (TAMBAs) were conceived.
Our TAMBA night is now the most keenly anticipated event in our company. The award categories relate to core business activities and behaviours that we value. The winners are voted for by their peers and the "feel good" factor generated is phenomenal.
At the outset, we just wanted to have a good party to show that we really appreciated our team, but there have been many unexpected benefits. The awards reinforce that positive contributions and excellence really matter in our organisation. People are really proud to win and so they are motivated to keep delivering and developing. They affirm to the nominees and winners that they are good at what they do, building confidence and banishing doubts. They can also illustrate how far individuals have come, from just starting out in recruitment to being considered a role model by their peers.
Success does breed success. Our business success depends on the individual success of our people and the ability for those successful individuals to work as a team.
Our Recruiter of the Year winner summarised it particularly well when he accepted his award, "Although I'm delighted to receive this award I realise that without the support of my amazing team I couldn't have achieved all that I have this year."
So go on and have a party, it'll be time well spent.