Highly Commended!
8th December 2014
Thorpe Molloy Recruitment Highly Commended by Institute of Recruitment Professionals (IRP).
Thorpe Molloy Recruitment received highly commended status in the Best Company To Work For (<50 employees) category at the IRP annual awards ceremony held at the Park Plaza Westminster Bridge Hotel in London on 5th December.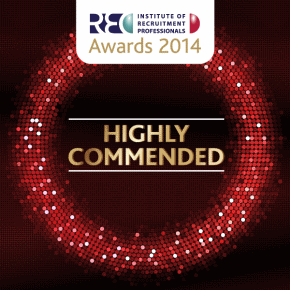 Amanda McCulloch, Managing Director of Thorpe Molloy Recruitment, said: "We're delighted as these prestigious awards set an industry standard of excellence and enable us to benchmark ourselves against high calibre recruitment businesses nationally. We constantly strive to improve and throughout 2014 we have implemented a number of initiatives targeted at employee engagement, reward and development, so it is particularly pleasing that these efforts have been recognised by our industry's regulatory body.
The award ceremony was attended on behalf of Thorpe Molloy Recruitment by Accountancy and Finance specialist Cassie Connell. Cassie received a personal invitation to attend the awards following her outstanding success earlier this year, achieving top student in the IRP Certificate of Recruitment Practice assessment.
Thorpe Molloy Recruitment has serviced the local recruitment market since 1997 and now employs 47 staff at its Albyn Place office, turning over £14 million per annum. Over the past 17 years the company has expanded to provide recruitment services for Executive, Accountancy and Finance, HR, Office Personnel, Commercial Contracts, Legal, Business Development, Marketing, QHSE, Professional Trades and Supply Chain.
The IRP awards are the only recruitment sector awards hosted and awarded by the regulatory body, the Recruitment and Employment Confederation (REC). The REC is committed to raising standards and highlighting excellence throughout the recruitment industry.