Sweet Success
22nd January 2015
Aberdeen Cyrenians is enjoying a cash boost of over a thousand pounds thanks to an innovative Christmas quiz by Thorpe Molloy Recruitment.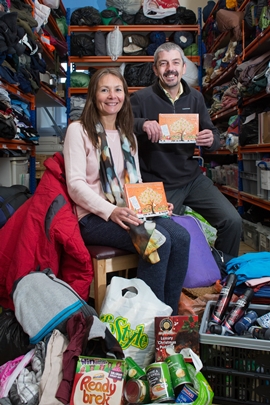 Karen Molloy with Scott Baxter,
Depute Chief Executive Aberdeen Cyrenians
The local recruitment company invited people to participate in their on-line festive quiz, posting a different question every day for the first 12 days in December. The competition was promoted on its Christmas advent calendar, a sweet treat which is distributed to hundreds of client contacts across the city each year.
Karen Molloy, Director of Thorpe Molloy Recruitment, explains "We're pretty good at poking fun at ourselves on our advent calendars. We took it a stage further to promote the quiz, asking people to answer questions about Thorpe Molloy Recruitment and a few general knowledge ones too. Through the power of social media we received entries and charity nominations from beyond Aberdeen, but only Aberdeen Cyrenians successfully answered all 12 questions, winning £1,200."
Rachel Sanders, Fundraising Officer for Aberdeen Cyrenians continues, "It was great to take part in this fun challenge with Thorpe Molloy which extended the festive fun we try to create here at Aberdeen Cyrenians throughout the winter months. We are delighted to receive this donation at one of our busiest times of year. The prize money will go towards our Christmas and Beyond Appeal which has raised more than £60,000 this year to support those in need across the North East, with extended opening hours, hot meals, shower and laundry facilities as well as Christmas gifts for all our service users."