Keep It Original
29th January 2015
Last week we had the enormous pleasure of spending an hour with Martin Ingram on his Original 106 FM lunchtime radio show.
Fulfilling a lifetime ambition of presenting on radio definitely ticked an item off the proverbial bucket list, but reflecting on the experience it was uncanny how relevant our 60 minutes with Martin were to our work in recruitment.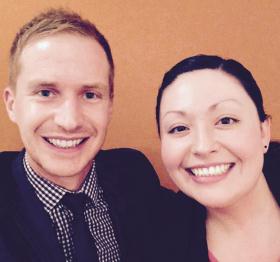 Chris Carr and Andrea Aspe
Every day we advise and reassure candidates as they prepare for job interviews, but as loyal Thorpe Molloy-ees it's been a good while since we've had to go through the experience ourselves. Suddenly there we were, live on air, answering questions and wondering what was going to be thrown at us next! Waking up that morning with butterflies was a novel and slightly unpleasant sensation. Having "air time" and thinking on our toes was nerve-racking, particularly with everyone listening back at the office - one slip of the tongue and a lifetime of ridicule would follow!
But like every good interviewer Martin quickly put us at ease, was very supportive and not at all interested in tripping us up. It benefited him to make sure we were at our best on the day, as is the case when a hiring manager meets with a potential new recruit. Time was of the essence so we had to keep our answers succinct, meaning we didn't waffle (hopefully!). Conveying our personality was tough, the advice we often give of "just be yourself" can be harder to do when under a bit of pressure!
Like many a newbie at work we were captivated by the way Martin effortlessly managed the music desk. And emphasising the small world we live in who should text the show during our time on air? Only Martin's wife, to let him know he was hand-holding (metaphorically of course) recruiters from the company who had successfully managed her job search. This coincidence illustrated that no matter who you are meeting it's always worth checking out your mutual connections beforehand, as it's such a great way to break the ice. Social media and Linked-in are great tools for this.
From the experience we gained a renewed empathy for our candidates, a great after-dinner story and a very "Original" answer should we ever be asked the interview question, "Tell me about a time when you had to work under extreme pressure.