Is 2015 The Year Of The Accountant?
7th April 2015
A fifty per cent fall in commodity prices is a nasty shock for any business but the fall in the oil price is especially painful for an area such as the North Sea where production costs are high, operating expenditure has escalated and production has decreased. In an effort to survive in the lower price environment the focus has naturally shifted to cost reduction, with the human side of the industry being hit through contractor rate cuts of up to 15%, staff salary cuts of around 5%, offshore rotas moving to 3:3 and thousands of jobs lost nationally, with the total predicted to rise to 40,000 over the next 3 years.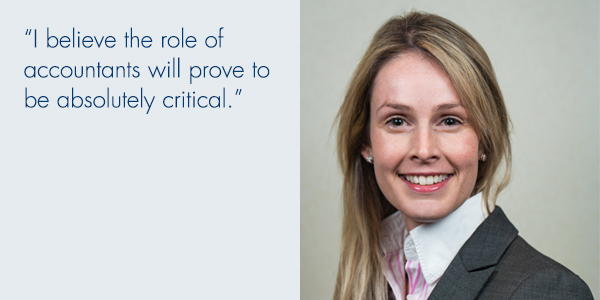 Amanda McCulloch, Managing Director
Finance departments, once considered a back office function, are vital to business success and, particularly in the challenging business environment we find ourselves working, I believe the role of accountants will prove to be absolutely critical. Indeed, we are experiencing sustained demand for both qualified accountants and finance professionals and we don't anticipate that demand decreasing under the market conditions.
Oil and gas organisations appreciate more than ever how important it is to have a robust finance team in place. This has led to our involvement in recruitment assignments which are adding to headcount because they have either been operating too leanly; they have identified key roles required to best manage through these challenging times or the incumbent team structure is not effective. There's also re-assignment activity, ensuring the right people are in the right roles and this has led to back-fill opportunities.
We are witnessing a shift away from the temporary hiring trend of 2014 to more permanent placements, with organisations hoping people will stay and add value longer term, particularly in senior roles. Demand is diverse, ranging from invoice processors, credit controllers, newly qualified accountants, through to very experienced professionals for Chief Financial Officer (CFO) roles.
The most successful finance professionals wear many different hats and that makes for an exciting, stimulating career. Organisations are searching for CFOs who can develop relationships easily and build trust, be forward thinking, strategic as well as operational and understand all the interfaces and functions of the business, providing insight, support and a different perspective when required. In many such roles there's risk weighted decisions to make, debt negotiations to drive and demanding investor relationships to manage. In turn, CFOs are questioning whether they have the right support in place, for example, in compliance, analysis and tax.
Many of the appointments we are presently managing require board approval, which can prolong the hiring process. On the positive side, this does enable us to offer assurances to our candidates that the position is business critical, the job specification has been well thought through and the role offers relative job security.
Due to the down turn in the oil and gas sector other organisations have benefited, from agriculture, construction, financial services and the third sector for example. Previously, these companies were unwilling or unable to compete against the inflated salaries offered by operators and tier one service companies, but they are now successfully recruiting individuals of a very high calibre, who would not have previously been "on the market".
Obviously it's a very challenging time for those facing wage cuts, particularly those at lower rates, and for people who are going through consultation or facing imminent redundancy. It is very competitive with more qualified professionals on the market and, as employers will not negotiate on rates, candidates must moderate their salary expectations in this new climate of value for money and fair, not inflated, pay.
The Thorpe Molloy Recruitment Accountancy & Finance team is the largest and most experienced in Aberdeen, we want to do all we can to ensure people are afforded new opportunities in accountancy and finance locally.