Leading By Example
22nd July 2015
We've witnessed a great deal of change and volatility during the last 6 months in Aberdeen's challenging business environment. But change is real and present for every organisation in every sector as we all face the opportunities and challenges of growth, technology, competition and diversity.
But what are we doing to ensure we have the right people to deal with so much change? And where are these people in our organisations?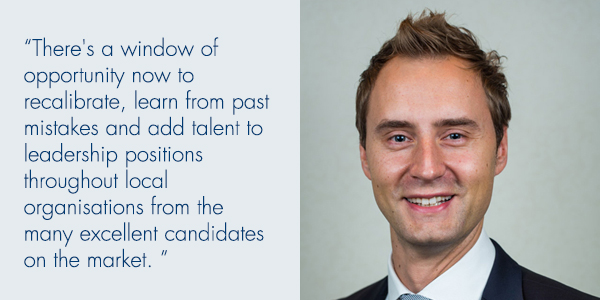 Chris Clark, Business Manager Accountancy and Finance, Legal and Contracts.
I believe the people we need are leaders and they are throughout our organisations because if someone is managing a team of people, they should also be leading them. Of course, senior leaders will be focused on strategic aims and vision, but every leader also carries responsibility for building trust, collaboration, motivation, communication and team working.
And here's the problem. We've seen it all too often, good people promoted into management positions because of their technical skills, not their management abilities and certainly not for their leadership capacity. And once in post they don't receive the support they need in order to grow into their new responsibilities effectively.
When Brent crude was around $100/barrel there was high volume recruitment and a candidate driven market. These factors caused reactive resourcing and sometimes a mediocre placement, where management and leadership positions were compromised. There was an overwhelming preference to hire candidates with similar technical industry experience over professionals from other sectors with transferrable skills and superior leadership attributes.
Successful CEOs and CFOs must be surrounded by a team where the individual competencies and the group dynamic are well matched and then draw upon the talents within that team, benefiting from niche expertise.
There's a window of opportunity now to recalibrate, learn from past mistakes and add talent to leadership positions throughout local organisations from the many excellent candidates on the market.