Friendly Football Raises Awareness
29th July 2015
Thorpe Molloy Recruitment has been putting its best foot forward in an annual charity football match in memory of a young cancer victim.
The company was one of ten local businesses and hundreds of youngsters going head to head to help raise funds for two local charities.
The three week football festival has been held for the last three years in honour of Aaron Williams who died of skin cancer in 2011 aged just twenty five.
As well as raising funds, the tournament which was set up by Aaron's friend, local policeman Kevin Lynch, has helped raise awareness of melanoma skin cancer.
"I set up the charity event initially for school kids at Northfield Academy where I was based as a policeman. It's had tremendous support from the local community, including the kids from the school and it's been great to see them taking part in the tournament with their friends.
This year, for the first time, Aberdeen companies and ladies teams have been competing, it's fantastic how the event has snowballed. I hope eventually it will become a national event across Scotland!
It's such a great opportunity for people from across the city to come together to enjoy some friendly football while raising money and awareness for worthwhile causes. To date we have raised over twenty thousand pounds with this year's funds going to Cash for Kids and Friends of Anchor.
I'd like to thank everyone who has contributed to making the event such a huge success." said Kevin.
Thorpe Molloy's team captain, David Miele, said they were delighted to take part, although putting in a valiant performance they had to settle for a win, a draw and two losses, so will probably be sticking to their day jobs.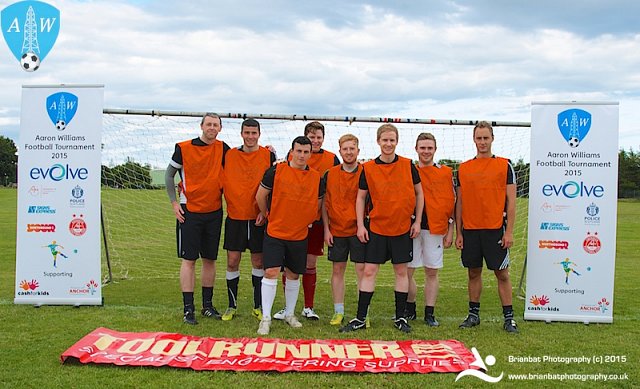 Putting their best foot forward - the Thorpe Molloy Recruitment squad
David explains "This tournament provides businesses like Thorpe Molloy Recruitment with the chance to become involved in a huge community event. The football aspect appealed to almost all the guys at work so were able to play together as a team, with the practice nights getting us moving – often the last thing you feel like doing after a day in the office. Despite not making it into the semi-finals we all had a blast and have raised awareness about the dangers of melanoma skin cancer among our colleagues, family and friends."
Photograph courtesy of Brian Battensby Photography www.brianbatphotography.co.uk .