No Fairytale Ending On Horizon
18th August 2015
It's probably not an over exaggeration to say that everyone in Aberdeen has been affected to some extent by the downturn in the oil and gas industry. There's a myriad of reasons, perhaps you've experienced a dramatic change to your working life or know someone who has; your role content may have altered; possibly you've had to manage some very difficult conversations or, as a supplier, you find yourself forecasting with the help of a crystal ball.
It's a daunting time for job seekers and is likely to remain so as there's no fairy tale ending, we need to adjust our expectations to the reality and challenges of a lower oil price. Working in recruitment is a bit like being a barometer, through our own business activity we can measure pressure and forecast change.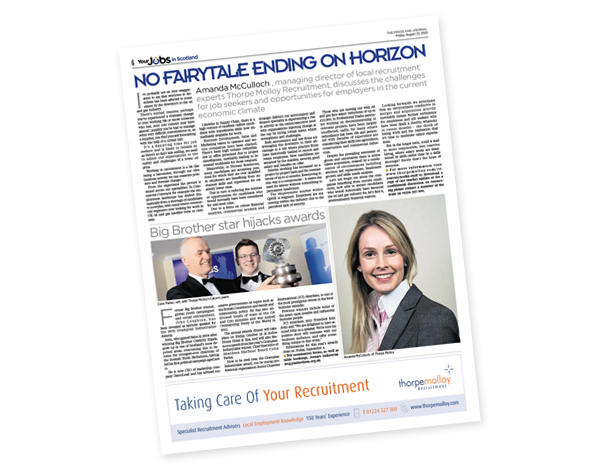 From our experience the picture is mixed across our specialisms. In Commercial Contracts for example the employment landscape has shifted dramatically from a shortage of candidates to a surplus, with many senior commercial engineers now looking for work in UK oil and gas satellite hubs or overseas. Likewise in Supply Chain, there is a high volume of excellent calibre candidates with transferrable skills now immediately available for work.
Business Development, Sales and Marketing teams in operator and service companies have been slashed. There's been high volume redundancies in Office Personnel due to project cancellations, inevitably leading to increased workloads for those retained. Meanwhile in Human Resources many candidates are accepting positions for which they are over qualified so employers are benefiting from enchanted skills and experience for relatively lower rates. This in turn is reducing the number of opportunities for candidates who would normally have been considered for mid-level roles.
Due to a focus on robust financial analysis, commercial acumen and strategic delivery our Accountancy and Finance specialism is experiencing a rise in activity at the senior / executive level with organisations injecting change at the top by hiring robust talent which strengthens and challenges.
Both accountancy and law firms are leveraging the downturn to their advantage in a city where practice firms have historically battled to recruit and retain employees. Now candidates are attracted by the stability, security, good salary and benefits on offer.
Interim working has increased on a project by project basis and for contract terms of up to 12 months. Resourcing in this way is a compromise – it meets the need for labour without committing to permanent headcount.
The employment market within QHSE is stagnant. Employees are not moving within the industry due to the perceived lack of security. Those who are moving out with oil and gas face salary reductions of up to £15,000. In Professional Trades personnel working on decommissioning or overseas projects have been largely unaffected, sadly, for many others redundancy has been rife and personnel with decades of experience are transferring their skills into agriculture, construction and commercial industries.
Despite the prevailing sentiment of gloom and uncertainty there is active talent acquisition, created by a combination of circumstances including attrition led replacement, headcount growth and skills needs analysis.
Let's not forget too about the companies benefiting from current conditions, now able to attract candidates who would historically have favoured the oil and gas industry for, let's face it, predominantly financial reasons.
Looking forwards we anticipate that an environment conducive to merger and acquisition activity inevitably means further turbulence for employees and job seekers who have been dealt a double whammy in recent months – the shock of losing work and the realisation that it's time to moderate salary expectations.
But in the longer term, could it lead to more responsible, less reactive hiring, where salary levels are determined by skills rather than by a skills shortage? Surely that's the hope of everyone.