An Evolutionary Tale
19th August 2015
With the school holidays coming to a close I conducted a bit of "target audience" feedback from my children.
I was keen to know their most enjoyable holiday moment, logging the feedback for future reference under categories including "Never to be repeated", "Only use in the event of an emergency" or "Thumbs up every time" .
My youngest and I agreed that the trip to Edinburgh Zoo, or more precisely our 20 minute scheduled viewing of the Giant Pandas at Edinburgh Zoo, was our holiday highlight. We were so fortunate because the male, Yang Guang (Sunshine), took a break from his 16 hour sleep-a-thon and enchanted us with his gentle but exhibitionist antics, luxuriating no doubt in the knowledge that he and female Tian Tian (Sweetie) are largely responsible for the boost in visitor numbers to this attraction.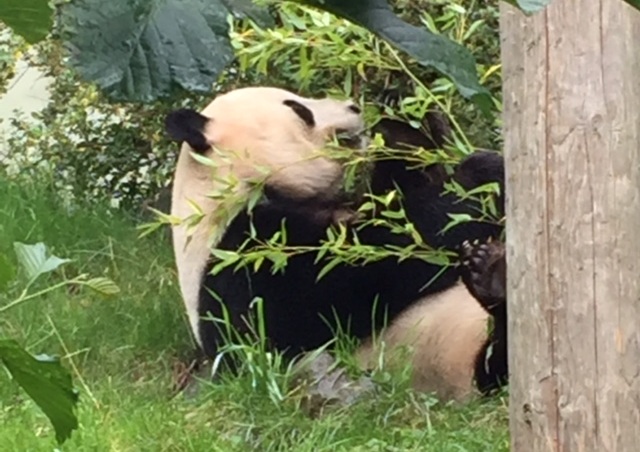 While watching these wonderful animals we were also educated by the devoted keeper who explained that pandas are on a 10 year loan from the Chinese to protect the species and aid conservation. The importance of this international practice was reinforced a few years ago when China experienced an earthquake which would have been devastating for the species had they not been part of a collaborative conservation project.
Several days after our visit the panda enclosure and associated webcams were closed as keepers hope for the birth of a cub to Tian Tian. Why the uncertainty? Although Tian Tian definitely conceived (during an annual 36 hour window), her ingenious panda physiology means that she may have postponed becoming pregnant, until conditions are optimal.
Marveling at these animals, one has to wonder why their evolution has made breeding so difficult but their life lessons certainly resonate:
Don't keep your eggs in one basket.
Collaboration can protect you from extinction.
There's value in a "stop" button, allowing time for consideration and reflection before taking life changing action.