Vocational's Back In Vogue
2nd September 2015
Vocational employment is back in vogue and the groundswell of activity and best practice initiatives are really building momentum, providing food for thought for those attending Offshore Europe's talent seminars on "How To Inspire The Next Generation".
In recent times vocational working has been perceived as the inferior option to the graduate route to employment, but it's fighting back with the support of all the key players:
The Scottish government aspires to match the lowest rate of youth unemployment in Europe and, working alongside local authorities and Skills Development Scotland, is channelling funds into initiatives which will help to deliver the Youth Employment Strategy.
Employers, exasperated that school leavers are seriously unprepared for the world of work, are actively participating in the development of young people (and in the mid-long term, their own talent pools) by offering work placements, apprenticeships and vocational training.
A growing number of young people, disillusioned by the prospect of student debt and research such as Accenture Strategy's "Graduate Employment Survey", which reports the majority of recent graduates in employment have jobs that do not require a degree, are favouring apprenticeships or on the job training supported by college day release.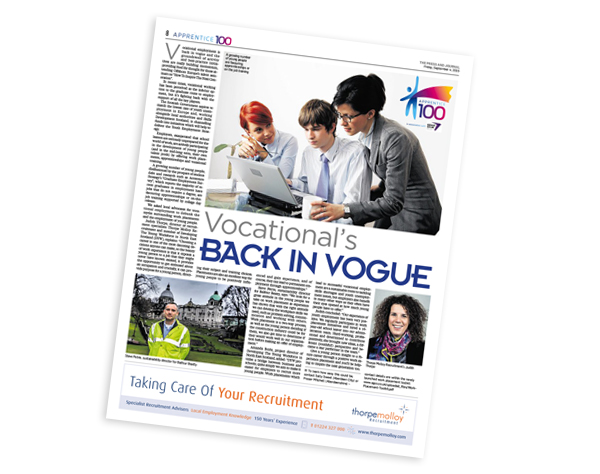 We asked local advocates for vocational employment to de-bunk the myths surrounding work placements and the employment of young people.
Judith Thorpe, Director of recruitment specialists Thorpe Molloy Recruitment and member of Developing The Young Workforce in North East Scotland (DYW) explains, "Choosing a career is one of the most daunting decisions anyone can make, so the beauty of work experience is that it exposes a young person to a job that they might never have known existed, it provides the opportunity to get enthused about an occupation and crucially, it can provide purpose for a young person, directing their subject and training choices. Placements are also an excellent way for young people to be positively influenced and gain experience, and of course, they can lead to permanent employment through apprenticeships."
Steve Petrie, Sustainability Director for Balfour Beatty says, "We look for a great attitude in the young people we take on work placement as experience has shown that with the right attitude we can develop the workplace skills we need, such as problem solving, communication and working with others. Work placement is a two way process, as well as the young person deciding if the construction industry could be for them, we also get time to determine if they would work well in our organisation before making an offer of employment."
Amanda Boyle, Project Director of Developing The Young Workforce in North East Scotland (DYW) explains further, "DYW provides a bridge between business and schools, quite simply we aim to make it easier for employers to recruit more young people. Work placements which lead to successful vocational employment are a sustainable route to tackling skills shortages and youth unemployment issues, but employers also benefit in many other ways as they often have their eyes opened at how much young people have to offer."
Judith concludes, "Our experience of youth employment has been very positive, we regularly participate in work placement initiatives and hired a 16 year old school leaver into our administration team. Hard-working, professional and determined to contribute positively she brought new ideas, a different (youthful!) perspective and became a star performer in the team."
Give a young person insight to a future career through a positive work experience placement and you'll be helping to inspire the next generation too. To learn how easy this could be contact Sally Sweet (Aberdeen City) or Fraser Mitchell (Aberdeenshire), contact details within the newly launched work placement toolkit www.agcc.co.uk/uploaded_files/Work-Placement-Toolkit.pdf.