Joining Roll of Honour For Apprentice 100
6th November 2015
They say there is a first for everything and that definitely describes the recent goings on at one of Aberdeen's recruitment agencies.
For Thorpe Molloy Recruitment has just opened a new chapter in the company's history - by taking on its first Modern Apprentice.
The agency made the decision as part of its pledge to the Press and Journal's Apprentice 100 campaign which aims to create more opportunities for young people to gain employment.
It was so keen to give its support to the appeal that not only did it pledge to add an apprentice to its payroll, it was quick off the mark and has already fulfilled its promise.
Jessica Logue, 20, from Aberdeen, has now joined the recruitment agency as a member of the business support team.
She said: "While gaining my photography qualification I realised that full-time education wasn't for me, I much prefer working and learning on the job. I'm so pleased about this modern apprenticeship pledge because it's my hope to use the qualification as a stepping stone to eventually study an Open University degree.
"I can't believe how well it has worked out at Thorpe Molloy Recruitment so far, by using my photography skills I feel I'm making a valuable contribution to an important project and I'm learning more about the recruitment profession every day."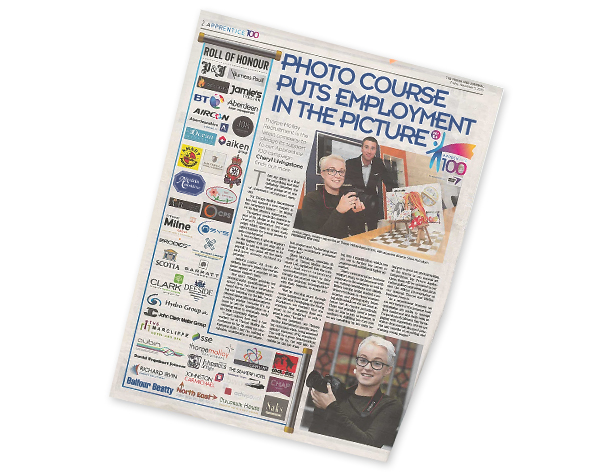 Steve McCulloch, associate director at Thorpe Molloy Recruitment, explained that the company had never considered apprenticeships before because as they thought the process was "onerous and the training incompatible" with their bespoke, in-house programme.
"But by learning more through recent initiatives such as Apprentice 100 and Developing the Young Workforce we realised that the training Jess receives does not need to be modified to suit a generic plan, he said.
"We can maintain our Thorpe Molloy Recruitment specific learning outcomes while being assessed against national SVQ standards. This will be a great benchmarking exercise for us, but will also formalise on the job training into a qualification which Jess can use to further her career or progress with additional higher education.
"Jess is a member of our business support team, so she interacts with everyone in the company as well as our visiting candidates and clients. Before joining us she studied a national certificate in visual communication and photography, learning skills which we did not have in-house but do require periodically. There was probably never a better time for Jess to join us because, in addition to fulfilling her core role, we are benefiting by her skills being put to good use photographing all the entries to our annual art competition, My Future Aspirations, these will be uploaded to our online gallery next week, and she is also the official photographer at our internal Thorpe and Molloy Business Awards.
"As a recruitment business we are very aware of the pressure local companies are under to manage their headcount and skills base, so I'm particularly pleased that by engaging with Apprentice 100 we are able to demonstrate the good practice and benefits of recruiting and training young people."