Mid-life Cyclist? No, Just A Change Of Perspective
10th December 2015
There's one topic you can rely will come up in conversation in Aberdeen. It's mentioned so often and relates to so many people that I don't even need to say it, but you'll know what I mean.
In our line of business we see people almost daily who are trying to come to terms with being out of work, or those seeking coaching to help them map out what they can do to best "future proof" their career. People are making brave decisions around further education, relocation, sabbaticals, travel or using this time to fulfil life-long personal aspirations.
Whether it's the general business sentiment or prevalence of S.A.D. at this time of year, I was glad to escape for a while. Fulfilling a personal ambition of my own I cycled from Saigon, also known as Ho Chi Minh, in Vietnam to Angkor Wat, Cambodia for the fantastic local charity Charlie House.
I'll admit to a few pre-trip nerves before meeting the rest of the group at Heathrow airport. I need not have worried, as it turned out it was the start of an amazing 10 days' cycling with a bunch of strangers who soon became firm friends.
We covered nearly 500 km in blistering heat and humidity but the breath-taking scenery, shouting hello to local children every few seconds and the group camaraderie more than made up for our discomfort.
We cycled over rickety bridges and dirt tracks, through small villages, rice paddy fields and banana plantations, taking in rolling hills with scenes straight from MASH (you'll need to look that up if you were born after 1983). We discovered random and ornate temples in some of the poorest of places, took little boats across the Mekong and visited a floating market where we tried the delicious sugar cane rice and less delicious fried tarantula and cockroach. Finally, we visited the very sombre and disturbing Killing Fields followed by the amazing wonder that is Angkor Wat.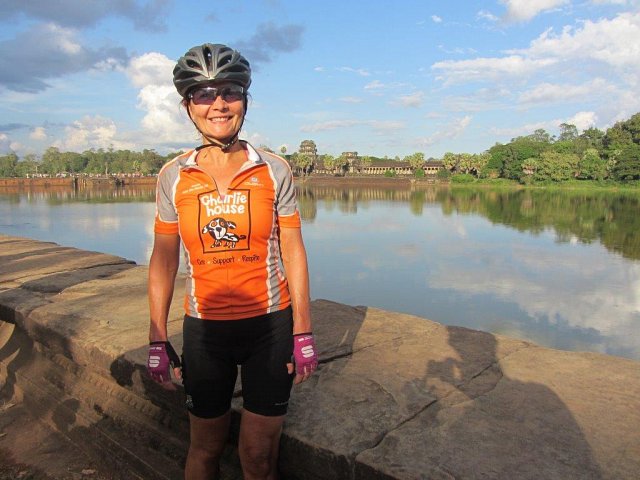 Every moment of this adventure was so memorable because it's so different from my daily life. It was great to talk to people who haven't got a clue what's happening in the north east of Scotland, but have their own set of business challenges to deal with where they come from. I'm sure I'm fitter and although the business challenges we face haven't evaporated while I've been cycling it gave me loads of head space, perspective and a few ideas about how we can move forward.
OK, I'll agree not everyone is fortunate enough to cycle around The Orient, but we're all capable of having conversations with new people who have completely different backgrounds to our own, asking for some help and advice, doing something that feels a bit scary but could lead to something amazing, or simply, could just make us feel a bit better.
To quote JFK, 'nothing compares to the simple pleasure of a bike ride.' I couldn't say it better myself.