A Serious Case Of Attitude
8th June 2016
We are all too familiar with the local tale of secure jobs coming to an abrupt end but in January of this year the World Economic Forum (WEF) predicted that the rise of intelligent machines and global disruptions will wipe out previously secure jobs across the globe, in almost every business sector.
In the WEF Future of Jobs report more than a third of the desired core skills of most occupations by 2020 will be comprised of skills not yet considered crucial to the job today, with problem solving, critical thinking and creativity topping the future skills list. Regardless of the job you are in, expect to constantly modify and develop your skills in the future.
Given local employment upheaval I think many of us had reached that conclusion already. Despite years recruiting through a skills shortage, I more frequently hear about the importance of upskilling now, as individuals seek to increase their employability and employers seek to enhance their skills base. It's more pertinent than ever to determine which skills your organisation needs to survive and thrive, and then determine whether you need to recruit those skills or upskill an employee who is already a good cultural fit.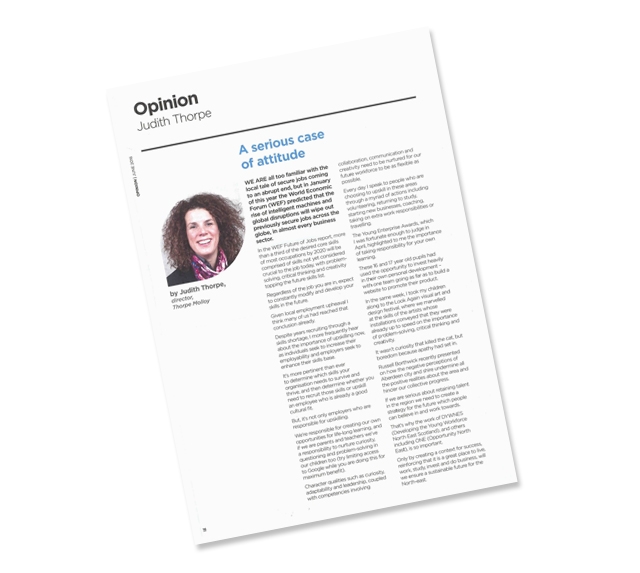 But, it's not only employers who are responsible for upskilling. We're responsible for creating our own opportunities for life-long learning, and if we are parents and teachers we've a responsibility to nurture curiosity, questioning and problem solving in our children too (try limiting access to Google while you are doing this for maximum benefit).
Character qualities such as curiosity, adaptability and leadership, coupled with competencies involving collaboration, communication and creativity need to be nurtured for our future workforce to be as flexible as possible. Every day I speak to people who are choosing to upskill in these areas through a myriad of actions including volunteering, returning to study, starting new businesses, coaching, taking on extra work responsibilities or travelling.
The Young Enterprise Awards, which I was fortunate enough to judge in April, highlighted to me the importance of taking responsibility for your own learning. These 16 and 17 year old pupils had used the opportunity to invest heavily in their own personal development – with one team going as far as to build a website to promote their product. In the same week I took my children along to the Look Again visual art and design festival, where we marvelled at the skills of the artists whose installations conveyed that they were already up to speed on the importance of problem solving, critical thinking and creativity.
It wasn't curiosity that killed the cat but boredom because apathy had set in. Russell Borthwick recently presented on how the negative perceptions of Aberdeen city and shire undermine all the positive realities about the area and hinder our collective progress.
If we are serious about retaining talent in the region we need to create a strategy for the future which people can believe in and work towards. That's why the work of DYWNES, and others including ONE, is so important. Only by creating a context for success, reinforcing that it is a great place to live, work, study, invest and do business, will we ensure a sustainable future for the north east.