Business Critical Hiring
16th June 2016
Extract from Business Now magazine, Summer 2016 edition.
Since 2014 I've found myself in the privileged position of being privy to the early stages of significant change management planning with local organisations sharing their business plans to restructure, diversify, down-size, benchmark, bring in new talent and grow.
Although it took some time, executive level candidates now readily accept the downward migration in starting salaries, acknowledging, in many cases, that they remain above central belt comparators. Flexing downwards is the executive "new norm" with attempts to increase the remuneration element of an employment offer negatively impacting credibility and calling commitment into question.
However, prevarication still exists, even in this job market. Savvy employers recognise the current market affords them the opportunity to attract higher calibre candidates than might previously have been possible. But some, anticipating this market will elicit the perfect prospective employee, are losing out by choosing to protract the recruitment process.
Exceptional senior level candidates are not interested in waiting around for a potential new employer to deliberate. They are attracted to employers that take positive action and are confident in their business planning, or at the very least, are confident about how the candidate can contribute to plans for the business.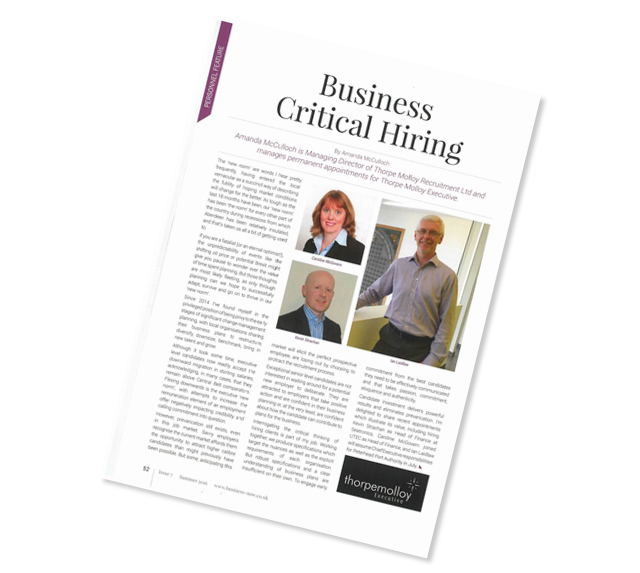 Interrogating the critical thinking of hiring clients is part of my job. Working together, we produce specifications which target the nuances as well as the explicit requirements of each organisation. But robust specifications and a clear understanding of business plans are insufficient on their own. To engage early commitment from the best candidates they need to be effectively communicated and that takes passion, commitment, eloquence and authenticity.
Candidate investment delivers powerful results and eliminates prevarication. I'm delighted to share recent appointments which illustrate its value including, hiring Kevin Strachan as Head of Finance at Seatronics, Caroline McGovern joined UTEC as Head of Finance and Ian Laidlaw will assume Chief Executive responsibilities for Peterhead Port Authority in June.