Laughing All The Way
1st October 2016
Aberdeen Inspired is the banner under which Aberdeen BID (Business Improvement District) operates. Businesses within the BID zone contribute a levy to fund Aberdeen Inspired's activities, which aim to make a positive difference to those who work, live and visit the city centre. Thanks to the support of the levy payers, I'm now responsible for investing a minimum of £6.5 million within the BID zone over the next 5 years.
Although awareness of the Aberdeen Inspired brand is growing, I think it would be fair to say that some local people are unaware of the projects we support and the impact they have. Aberdeen Inspired is playing a leading role in engaging commitment for the city centre, realising its potential by promoting and developing new ideas and events which provoke interest and nurture civic pride.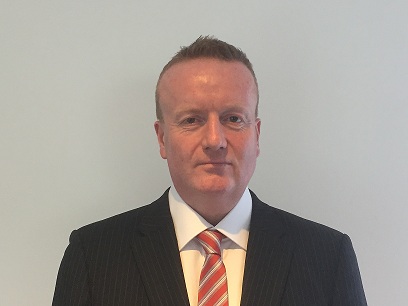 Adrian Watson, Chief Executive of Aberdeen Inspired
Plans are well underway for the 2016 Christmas village. Following the success of last year's event, which attracted half a million visitors, it is likely to extend into Union Terrace Gardens this year. We continue to support many of the local festivals including the Jazz, Aberdeen Music and Spectra festivals, and thousands of visitors enjoy the St Nicholas Roof Garden each month.

I believe our efforts are paying off with an increased footfall of some 5% in August, compared to the same time last year, and our Summer of Arts programme exceeded all expectations. The public really embraced the pianos found throughout the city centre and airport in "Play Me I'm Yours" and #painteddoorsabdn, where talented local artists used the doors of businesses as a canvas to showcase their talents, brought more colour to the city.
As well as working in partnership with like-minded bodies to promote our city, Aberdeen Inspired is also focused on revitalising the city centre by making it cleaner and more attractive, and therefore we are involved in Operation Union Street Rejuvenation. Furthermore, we are a key strategic partner in the over-arching 'Shaping Aberdeen' City Centre Masterplan, representing the views of our business levy payers.
We also seek to build on the city's Purple Flag status through safety initiatives, which are as diverse as creative lighting projects to seagull control.
Interest in music, arts and cultural events staged over the past couple of years illustrates the groundswell of support for a richer, more diverse and creative social scene in Aberdeen. Our most recent initiative is the Aberdeen Comedy Festival, supported by Breakneck Comedy. From October 14th to November 5th more than 250 comedians will perform in over 20 venues across the city centre. In its inaugural year it has attracted global performers and is already the third biggest event of its kind in the country. That's the level of ambition that my Chairman, Allan Henderson, the Board and my team have for this city.
Next year we have the potential to bring a project like the impressive Nuart (new art) programme to Aberdeen in April. This would involve international and local artists completing considerable pieces of work, which reflect our culture and heritage, on city centre buildings. We are also key partners in the delivery of the Great Aberdeen Run, scheduled for August 2017.
We are always delighted to hear ideas for initiatives which could promote the city and I'd encourage people to share their ideas with us at www.aberdeeninspired.com.