Northern Staff - Customer Service Excellence
10th October 2016
Last month I had the pleasure of accepting a Northern Star Business Award on behalf of the Thorpe Molloy team. It's 6 years since we last entered these awards and it was with trepidation we entered this year.
Why the nerves? Customer Service is subjective. One person's good experience can leave another person ambivalent. But because our industry retains an outdated reputation for sales before service we decided to put how we differentiate ourselves to the test, and let the judges decide how effective our customer service efforts really are.
Throughout 2016 we've taken a back to basics approach. Recognising that there is always room for improvement we set about listening to our customers.
Seems pretty obvious doesn't it?
We set ourselves the target of increasing responses to our online feedback questionnaires by 100% and, determined to stay connected to our clients, we aimed for 60% more meetings compared to the year before. People have been very willing to share their thoughts and the feedback has driven debate and change in our business.
At the awards I was accompanied by some of the colleagues who have had to adapt to those business changes. What struck me was their excitement as we waited for the announcement. I'm sure they were all more nervous than me and if I'm honest, winning the award meant so much because it's a reflection of their obvious investment in our business success.
After the announcement I was overwhelmed by the number of people who volunteered their congratulations, with even competitors sharing good wishes – and that meant a great deal too. The atmosphere was so encouraging, reflective of the admiration we have for each other's efforts and an appreciation of how vital it is that we support local business.
With the launch of Buy North East you don't have to be wearing an evening gown or a dinner jacket to champion local businesses, just simply sign up at www.buynortheast.co.uk/.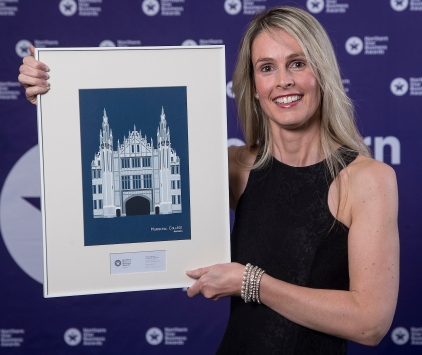 Northern Star Business Awards 2016
Excellence in Customer Service Excellence.