Are You Board?
18th October 2016
Only boring people suffer from boredom is an adage I've been known to recite to my children. But this premise applies to everyone, and it can apply to organisations too.
As a vocal advocate of social responsibility I love a win : win situation. When invited to get involved in a project I always consider whether I can actually add something useful and how I will gain from the experience, growing personally in a way that I don't in my day to day professional life. To date, it's never been boring and the breadth of experiences has been diverse.
I love a challenge and thrive on the professional and personal opportunities which keep my brain active, my ideas fresh and introduce me to new, often amazing, people.
Given the environment we are all working in, it is likely that you'll know someone amazing. Someone professionally very capable, with experience to share and guidance to convey who is actively seeking employment. I have friends in this position who have confided that, amidst the myriad of emotions they feel, one is boredom. Rather than feeling bored, I'd love for more of them to get on board.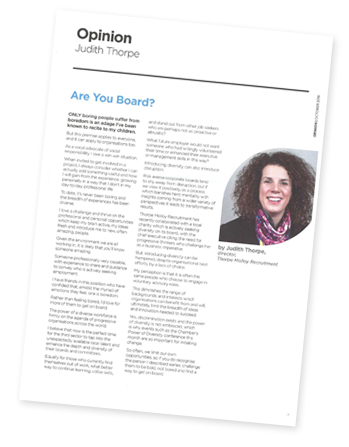 The power of a diverse workforce is firmly on the agenda of progressive organisations across the world. I believe that now is the perfect time for the third sector to tap into the unexpectedly available local talent and enhance the depth and diversity of their boards and committees. Equally for those who currently find themselves out of work, what better way to continue learning, utilise skills, and stand out from other job seekers who are perhaps not as proactive or altruistic? What future employer would not want someone who had willingly volunteered their time or enhanced their executive or management skills in this way?
Introducing diversity can also introduce disruption. Risk averse corporate boards tend to shy away from disruption, but if we view it positively, as a process which banishes herd mentality with insights coming from a wider variety of perspectives it leads to transformative results.
Thorpe Molloy Recruitment has recently collaborated with a local charity who is actively seeking diversity on its board, with the chief executive citing the need for progressive thinkers who challenge her as a business imperative. But, introducing diversity can be hampered, despite organisational best efforts, by a lack of choice. Without intending to offend or diminish, my perception is that it is often the same people who choose to engage in voluntary advisory roles. This diminishes the range of backgrounds and interests which organisations can benefit from and will, ultimately, limit the breadth of ideas and innovation needed to succeed.
Yes, discrimination exists and the power of diversity is not embraced, which is why events such as the Chamber's Power of Diversity conference this month are so important for initiating change. So often, we limit our own opportunities, so if you do recognise the person I described earlier, challenge them to be bold, not bored and find a way to get on board.