Do You Know Your Value?
7th December 2016
What we earn can be a contentious issue. Sector, years' experience, skills level, skills availability, location and company size all play determining factors.
During 2016, job seekers continued to act very flexibly in terms of salary expectations, often readily accepting rates which they believe don't reflect their value in order to secure employment.
And in a bid to safe guard jobs, employees have chosen to accept salary and benefits cuts which significantly impact total remuneration packages.
The consequence of so much turbulence is that no-one can be absolutely sure how the local market values their skillset. That's why we hope the 7th edition of our salary guide will be a valuable resource – despite depressed recruitment activity.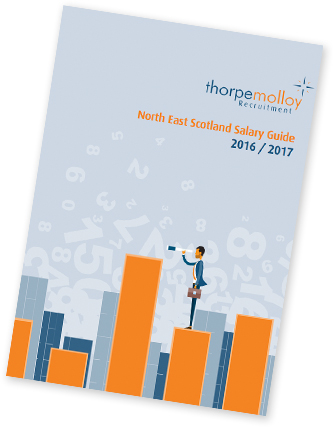 In this year's guide we share our experience of recruitment practice during 2016 and explore the consequences of significant redundancy and headcount rationalisation activities.
If you are in the process of resource planning the salary information is a valuable benchmark for determining the role type and candidate profile your business can afford to source. And, if you are actively hiring then the information will facilitate well informed discussions to manage candidate expectations.
A copy of our North East Scotland Salary Guide 2016 / 17 is available to download at www.thorpemolloy.com/resources.