Ideas For Apprentice Hiring
11th April 2017
This year it is estimated that 27,000 young people will benefit from apprenticeships. As this route to learning and developing skills becomes increasingly popular how do you identify and hire young people who are the best fit for your company?
If you are recruiting someone straight from school or college they will have relatively little work experience and may not have the confidence to communicate their abilities, so don't rely on conventional interview techniques.
My advice is to take a more informal approach which evaluates enthusiasm, commitment, a willingness to learn and provides insight to the type of person you are interviewing.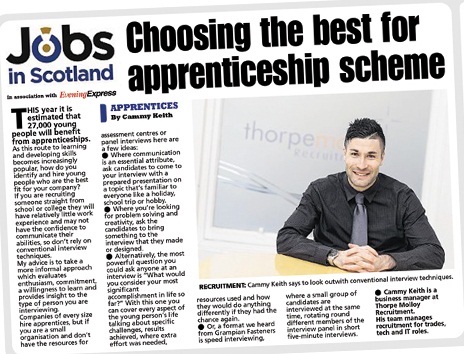 Companies of every size hire apprentices, but if you are a small organisation and don't have the resources for assessment centres or panel interviews here's a few ideas:
Where communication is an essential attribute ask candidates to come to your interview with a prepared presentation on a topic that's familiar to everyone like a holiday, school trip or hobby.
Where you're looking for problem solving and creativity ask the candidates to bring something to the interview that they made or designed.
Alternatively, the most powerful question you could ask anyone at interview is "What would you consider your most significant accomplishment in life so far?" With this one you can cover every aspect of the young person's life talking about specific challenges, results achieved, where extra effort was needed, resources used and how they would do anything differently if they had the chance again.
Or, a format we heard from Grampian Fasteners is speed interviewing, where a small group of candidates are interviewed at the same time, rotating round different members of the interview panel in short 5 minute interviews.
#HappyHiring #Allinforapprentices
Cammy Keith is a business manager at Thorpe Molloy Recruitment. His team manages recruitment for Trades, Tech & IT roles.
Photography courtesy of Newsline Media.
This post also featured in Aberdeen Citizen and Evening Express on 5th April 2017.