Gratitude, Good Times And A Dose of Development
19th June 2017
For the first time this year Thorpe Molloy Recruitment was a sponsor at the Trades Awards. Cynical readers might immediately assume that our association with this event was a random attempt at some misguided brand awareness and stop reading now. After all what does Thorpe Molloy Recruitment know about architects, designers, joiners and the myriad of other skilled trades working in Aberdeen?
Our reputation for accountancy and finance recruitment is prevalent, but we've been providing specialist Trades recruitment since 2011 and despite, or perhaps I should say in spite of, the market I wanted our connection with local trades businesses to be recognised.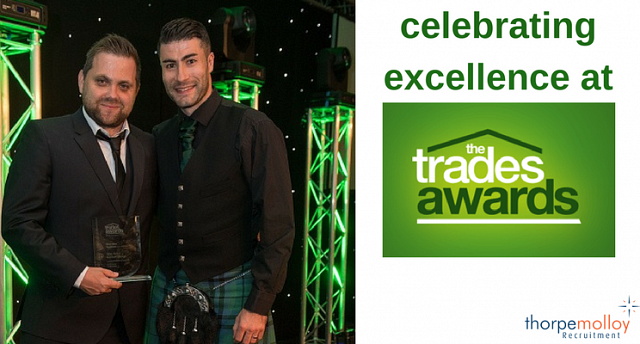 Cammy Keith with winner of the Trades Awards Best New Business - John Willox Kitchen Design Ltd
Having attended the Trades Awards in previous years' I knew it to be an evening that celebrated talent and business acumen across the spectrum of creative trade professions. But this year, more than ever before, I was struck by the camaraderie, appreciation and respect in the room. Let's just say that Kirstin Gove had to demonstrate that she knows how to manage a crowd and memories of the whole room singing along to Lionel Ritchie's "Dancing on the Ceiling" for Granite City Ceilings Innovation Award will stay with me forever.
Another reason why I'm such a fan of this event is because it provides opportunities for personal development.
If you take a moment to review the other sponsors and judges you'll see that we were in very good company and, well, quite honestly, no-one wants to be the weakest link so we prepared hard. And isn't that how it should be, with every entrant deserving 100% focus from the judges?
For us this meant thoroughly understanding the business submissions, researching all the entrants, justifying our decisions to fellow (highly accomplished) judges and making a good impression on the entrants we were meeting for the first time. One of my report-lines stepped up while I was on holiday and very ably filled my shoes (another nice bit of personal development). I even got in front of a video camera for a vlog or two.
Along the way we learned more about the construction and trade sectors and without a doubt became better recruiters for it.
From the stream of photos and comments on Linkedin and social media you'll have gathered it was a great night. But of course, it didn't just happen and my sincere thanks goes to Mearns & Gill, particularly Isla Stewart, for being so committed to the Trades Awards.
As well as raising the profile of entered companies and recognising achievements it brought together a community of local people, local businesses and local connections which it felt really good to be a part of, one which is focused on continually raising professional standards, employing and up-skilling young people and working together.
I can't wait until #TradesAwards2018.