Let Me Show You What I Can Do
12th July 2017
Do you ever look back with a sense of amazement, reflecting on achievements that you could hardly have imagined months or years earlier?
Sometimes it is serendipity (or so I believe), but sometimes things happen just because opportunities are created that allow people to give something a go.
Millie Wark, a 14 year old pupil from Lathallan School, was responsible for the most hotly contested auction prize at the Greyhope Bay Gala Dinner earlier this year.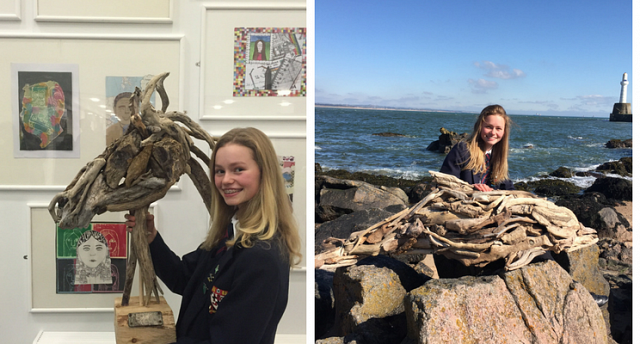 We first became aware of Millie 18 months ago when she won Thorpe Molloy Recruitment's art competition, My Future Aspirations. She created a horse's head sculpture from driftwood to represent her career ambition to be an equine vet (top left image).
Given the medium she worked with it seemed logical to us that she might like to try again, creating a bespoke sculpture for Greyhope Bay. Within 2 weeks a 1.5 metre sculpture of a dolphin was delivered to our office.
Days later, the gala dinner attendees watched in admiration as, completely unfazed, Millie took to the stage to explain how she created the sculpture.
Before entering our art competition Millie had never attempted to create a sculpture. Now, by contributing over 30% to the total funds raised at the gala dinner, she sees a commercial aspect to her artistic talent.
Millie was inspired by the passion, vision and "can do" attitude of Greyhope Bay's founder, Fiona McIntyre. In turn, she impressed everyone at the gala. An amazing experience and an amazing outcome.
After skipping a year My Future Aspirations returns this year with new plans for engaging more young people and showcasing their career dreams and ambitions to a wider audience across Aberdeen city and shire.
We're already anticipating the entries but in the meantime, if you've never heard of the competition, I think you'll love this short video which provides a glimpse of the career aspirations of our region's 11 and 12 year olds.
Makes you wonder what could happen if we provided more opportunities to let them show us what they can do. #futureproofing #northeasthastalent