Employers Seek Technology And Communication Skills
3rd November 2017
There is growing demand for workers to have a better understanding of new technologies and digital marketing as they enter the world of work.
Interviews carried out by Thorpe Molloy Recruitment at this year's Granite Expo event in Aberdeen focused on the use and implementation of technology in the workplace, with over half of respondents reporting they were 'enthusiastic adopters' of new technology.
However, the interviews highlighted the gap between using technology and software in the workplace and having the necessary skills to develop or create new software and digital solutions, with almost all respondents unsure what coding involves.
Amanda McCulloch, Managing Director at Thorpe Molloy Recruitment, explained: "The future is digital, with software at the heart of every industry you can think of. We are living through the digital revolution which is transforming the way we live and work, with a consequent impact on the skills we need.
"The demand for programming and coding will only continue to grow, and not just in IT roles. Increasingly, the ability to code is a real differentiator for analysts, marketers, engineers, designers, and scientists. Conversely, if you do work as a coder or software programmer then you are just as likely to work for a bank, hospital, airline, or manufacturing plant as you are to work for an IT business.
"However, the majority of small business respondents at Granite Expo were unsure what coding actually means – perhaps indicative of the wider issue that the importance of coding and computer science in education is still not being recognised, and is exacerbating a skills shortage. If people don't know what coding is, how can they be informed about choosing it as a career?"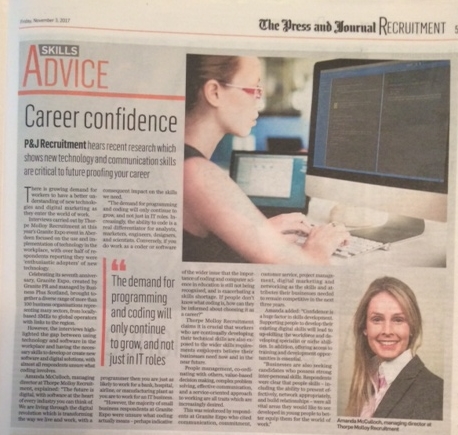 Thorpe Molloy Recruitment claims it is crucial that workers who are continually developing their technical skills are also exposed to the wider skills requirements employers believe their businesses need now and in the near future.
People management, co-ordinating with others, value-based decision making, complex problem solving, effective communication, and a service-oriented approach to working are all traits which are increasingly desired.
This was reinforced by respondents at Granite Expo who cited communication, commitment, customer service, project management, digital marketing and networking as the skills and attributes their businesses needed to remain competitive in the next three years.
Amanda added: "Confidence is a huge factor in skills development. Supporting people to develop their existing digital skills will lead to up-skilling the workforce and developing specialist or niche abilities. In addition, offering access to training and development opportunities is essential.
"Businesses are also seeking candidates who possess strong inter-personal skills. Respondents were clear that people skills – including the ability to present effectively, network appropriately, and build relationships – are all vital areas they would like to see developed in young people to better equip them for the world of work."
This article also featured in the Recruitment supplement of The Press And Journal on 3rd November 2017. Research was undertaken at Granite Expo 2017.