Pride & Privilege
11th July 2018
Never underestimate the power of an event. Be it corporate, musical, entertainment or sporting. The feel good factor, positive association with the place and of course the economic impact.
As the region eagerly awaits the opening of our new event complex, I was delighted to take on the role as Head of Sales for Conferences, Meetings & Banqueting at the Aberdeen Exhibition & Conference Centre (AECC).
With an investment of more than £330m the new event complex will be contemporary and eco-friendly, and is the largest single investment in a venue in the UK - ever.
Providing world class, state of the art conference and exhibition space in addition to a 12,500 seat arena, our stunning new building has dedicated, flexible exhibition space of up to 15,000sqm and conference rooms for 10 to 3,500 delegates. Events will continue to be supported by the experienced, first class team here at the AECC.
As a born and bred Aberdonian I feel incredibly proud and privileged to be part of something that will make such a positive impact on the local economy. The increased capacity of the arena will attract artists and bands that previously hadn't considered Aberdeen and the larger exhibition space will also open doors to consumer trade shows that have not visited the region before.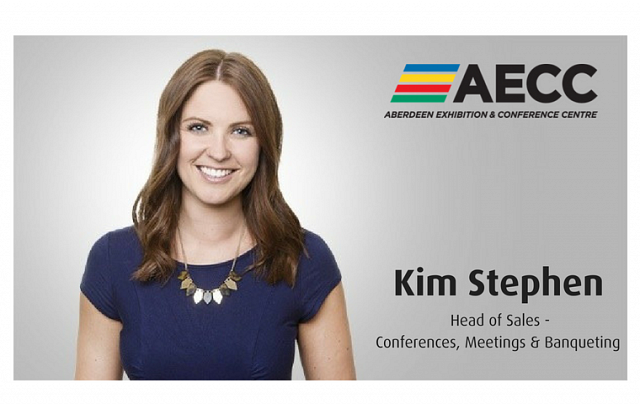 My role centres on maximising the opportunity that the event complex will present to the National and International Association and Corporate markets.

Conferences in this sector attract hundreds or sometimes thousands of delegates to events that can span a few days or maybe even a week. So what does this all mean for the local area?
Data from VisitBritain tells us that a national delegate spends on average £448 per day and an international delegate £1,021 per day. These figures include everything from accommodation, flights, transport, eating out and activities delegates undertake when they are here. So everyone in the region benefits from the economic impact they generate.
Let's look back to Routes Europe in 2015, where 1,300 international delegates descended on the City for three days, generating an estimated £2.2m of economic impact for the region. The organisers cited a cohesive, joined up approach of all key stakeholders as a main contributor to the success of the conference experience.
We already have the support of the local network, with key national stakeholders in place and we know the quality of our "product" is greatly increased. It's now all about action, and attracting similar Associations to choose Aberdeen as their destination choice, we're working closely with VisitAberdeenshire on this front.
It's such an exciting time for Aberdeen in general. There's a whopping £8.9bn of investment on projects already committed. Of this, £4.48bn represents infrastructure and transport investment, and the venue complex will see direct benefits with the AWPR opening later this year, the Aberdeen International Airport expansion and further rail enhancements making the region much easier to explore.
We can all play our part, talking the region up, encouraging businesses to visit, spreading the word in the sectors that we operate in. We are all part of team Aberdeen. #LoveAberdeen