A Decade of Life Goals, Career Ambitions & Responsible Citizenship
18th December 2019
If you are searching for a source of hope, talent, ambition and inspiration look no further than Thorpe Molloy McCulloch's art competition "My Future Aspirations".
The competition, which is 10 years old, challenges S1 and S2 pupils from Aberdeen and Aberdeenshire to consider and share their future life and career dreams through art.
Over 100 pupils from 16 schools across the region shared their career ambitions which ranged from journalist, firefighter, fashion designer, marine biologist, robotics engineer to astronomer. Enjoy all the entries by taking a tour through the exhibition's online gallery at tmmrecruitment.com/artgallery.
Head judge Karen Molloy said, "My Future Aspirations challenges young people to think about what they are good at, where their strengths lie and what they are passionate about. It begins a conversation about subject choices, routes into employment and what could be possible in the future."
"This year I felt there were four strong themes. The first is around hard work and tenacity. In the pupil narratives dedication comes up again and again, the importance of practice, continual improvement and pursuing your dream no matter what. As adults I think this latter point can become lost among the other challenges we face – yet it can be so important to our overall happiness."
"The influence of personal experiences resonated through many of the self-portraits and that reinforced for me the importance of exposing young people to as many diverse job options as possible – you can only aspire to a type of career if you know it exists."
"Citizenship and leading a valued life came through in public services jobs such as doctor, firefighter, police officer, vet and environmentalist."
"And the most striking theme for me this year was individuality. Acknowledging that as humans we are diverse or as Poppy Pinch from Aberdeen Grammar wrote we are "perfectly imperfect" and that it is important to "apply your style your own way".
The finalist evening for My Future Aspirations was hosted by ONE CodeBase and supported by career roles models such as Dr Charles Wang from Aberdeen University, Dr Fiona McIntyre from Greyhope Bay, Dr Carol Buchanan from Calsayeat Medical Practice, Katrina Thomson Schools Counsellor, Keith Gray from Gray's School of Art and Colin McGregor from the RAF.
Finalists also had the opportunity to watch an artist at work. Mural artist and illustrator, Katie Guthrie, captured the spirit of the event in a distinctive painting, Katie commented, "It was great to see such a strong display of creativity and ambition from the young artists who I'm sure will have very bright futures."
Zoe Evans, Community & Events Manager, ONE Code Base said, "We were delighted to have been involved in this exciting project with Thorpe Molloy McCulloch Recruitment Ltd, My Future Aspirations! Combining creativity, ambition and inspiring ideas we were amazed to see such talented work from school pupils across the region and to see the different styles of artwork displayed within our space."
"Hosting this event in the ONE Tech Hub has also allowed us to show the future leaders of tomorrow another career avenue into technology and what opportunities there are available to them in the North East of Scotland."
"We would also like to thank our partners Barclays Eagle Lab for demonstrating their laser cutter and 3D printer to the finalists as well as producing some bespoke items for the children to take home."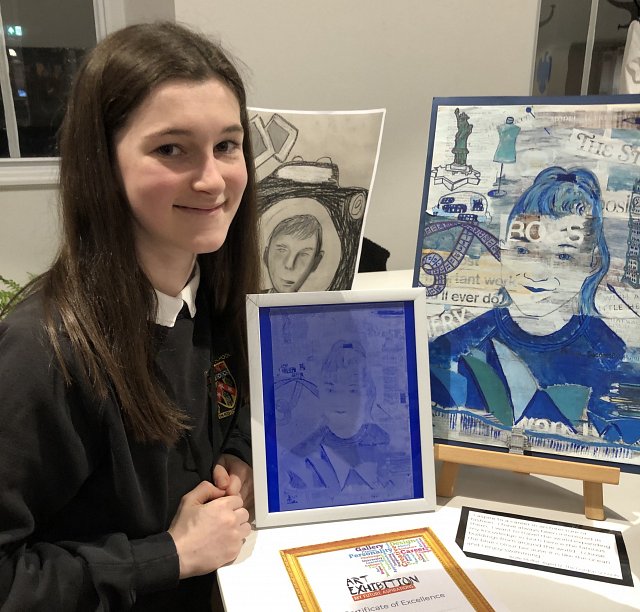 Photo caption: Winner of My Future Aspirations - Aoife Moffat from The Gordon Schools in Huntly, who aspires to have a career in architecture or fashion, traveling the world to expand her knowledge. Courtesy of The Gordon Schools.
#TMMLife