Name Change And Rebrand For North East Recruitment Experts
14th November 2019
Providing recruitment services for over 20 years, Thorpe Molloy Recruitment has placed thousands of people in employment, is the leading independent recruitment agency in Aberdeen and an award winning, respected company in the recruitment sector.
Our business name has engendered strong customer loyalty and employee advocacy and while it is well known in the local market, now is the right time to progress to the next exciting stage in the development of our business.
Our new name is Thorpe Molloy McCulloch Recruitment Ltd. Our brand philosophy is that "We value people above everything else" reflecting our focus on our employees and customers.
Our revitalised brand signifies the extraordinary commitment and influence Amanda McCulloch has devoted to the business in her capacity as recruiter, managing director and shareholder.
Amanda is intrinsic to the company's history and business story so far. Joining as a graduate in 1999 she earned rapid career progression as a result of outstanding commercial success, culminating in the appointment to Managing Director, a position she has held for the last 10 years. Amanda is the leading authority on senior leadership appointments with a particular focus on accountancy and finance in the north east of Scotland and under her strategic direction the business has grown to be the largest independent agency in the area, providing recruitment services across 10 specialisms.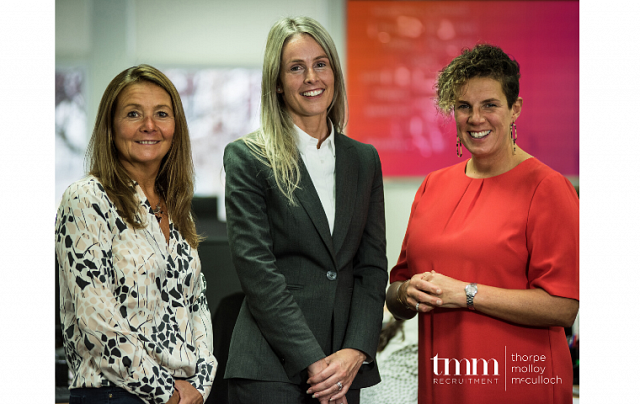 L – R Karen Molloy, Amanda McCulloch, Judith Thorpe

The business name change is a celebration of Amanda's contribution but it is also a reflection of our team spirit, culture and focus on the future as a leading provider of exemplary specialist recruitment. All our customers can be assured that through continuity of leadership and team of specialist recruiters we will continue to set the standard for recruitment services in the north east of Scotland and be the agency of choice for employers and job seekers.
The new brand coincides with a period of growth for Thorpe Molloy McCulloch Recruitment Ltd. Over the previous 12 months 8 new members of staff have joined the team and turnover has increased by 21%.
Thorpe Molloy McCulloch Recruitment Ltd (formerly Thorpe Molloy Recruitment Ltd) is a specialist recruitment agency. Based in Aberdeen since 1997 this award winning company has a reputation for customer service excellence. Working across all local sectors the business specialises in recruitment within these disciplines: Executive Selection, Accountancy & Finance, Engineering, HR, IT, Legal, Office Support, QHSE, Supply Chain & Contracts and Trades.
This announcement relates to a name change and rebranding, there is no change to the legal company entity.
#TMMLife