Summer's Just The Job For Boosting your Career
25th July 2015
Amanda McCulloch, Managing Director of recruitment consultancy Thorpe Molloy Recruitment comments on the contribution summer working can make to future employment success. Extract from Your Jobs in Scotland, Press and Journal, July 2015.
It was encouraging to read that Scottish youth unemployment is at a six year low while youth employment is at its highest since records began in 2002, up to 363,000.
Although there are many initiatives which facilitate getting young people into employment, securing your first job is a daunting task, particularly in our highly competitive local environment. With employers more likely to hire people who have work experience, a summer job is a valuable way to give yourself an advantage in the future or ease the transition from education into full time working. But it's not just about the tasks you perform, you also develop valuable life skills, start to build your own professional networks and learn how to adapt to different situations.
We asked three local, successful professionals to recall why their summer jobs proved so important to them.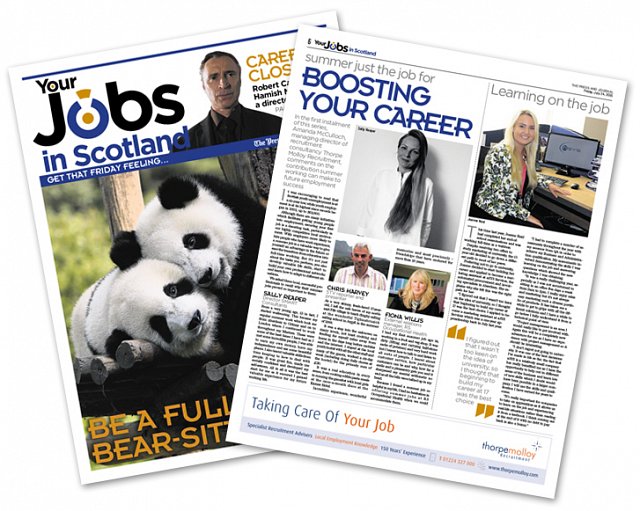 Sally Reaper, Director SMART Consultants From a very young age, 13 in fact, I started waitressing. This became my regular summer work which took me from Aberdeen to Orkney and on to London where I continued to work throughout my Masters. These were some of the best times I have had as I met some incredible people, I was able to earn my own money, have my independence and see some beautiful places. I also learnt valuable skills from time keeping to how to deal with people. It was great fun, made me socially confident and developed my self-esteem. All in all it was the best start for me as it ensured I gained valuable experience for my future working life.
Chris Harvey, STV reporter and presenter As a very skinny, fresh-faced 17 year-old, I left the safe haven of my north-east Fife village to teach dinghy sailing at the wonderful Tighnabruaich sailing school in Argyll in the summer of 1988.
It was a step into the unknown on many levels, not least cooking and fending for myself miles away from home in the days long before mobiles and the internet! I stayed at the local youth hostel with all the other staff and many of the guests, worked a 6 day week (including doing daily chores at the hostel) for the princely sum of 30 pounds!
It was a real education in every sense, from cooking edible pasta meals to running the gauntlet with local girls at the once-a-month disco at the Kames Hotel!
Incredible experience, wonderful memories and most preciously - friendships that have endured for more than 25 years.
Fiona Willis, External Relations Manager, RS Occupational Health I had my first summer job age 14, working in a fruit and veg shop. It was dirty (lifting and carrying half stone sacks of potatoes) and very hard work but I learnt how to talk to and listen to all sorts of people. I learnt about customer service, how particular customers can be and why, how far a smile and a pleasantry gets you and it sharpened my mental arithmetic no end as all the bills were tallied up in my head!
Because I found a summer job so helpful in my life I had no hesitation in offering summer jobs at RS Occupational Health when we could accommodate them.