Tap In To Temporary Talent
22nd June 2016
Wimbledon on the TV, local strawberries for sale, the optimistic chance to step out without a coat and a peak in demand for temporary workers – ah, it must be summer time.

At least that's how it used to be, taking on temporary workers to cover for employee holiday absence. But that trend is rapidly changing in today's business environment where workers have a much more open attitude to flexible working, in fact many actively seek out this pattern of working.
Gone are the days when employers thought it was "too much hassle" to take on a temporary worker. Instead the mind-set is about finding someone who can offer additional support, supplement skills and expertise without the contractual obligations and cost of a permanent employee. And an experienced temp will hit the ground running rather than just get up to speed at the end of their two week cover.
A temporary worker can just be for summer, covering workload to ensure deadlines are met and colleagues are supported, not swamped, while we take our well-earned annual R&R. But this summer there's a particularly wide range of individuals available for temporary work. In addition to those whose preference it is to temp, there are also professionals who would prefer permanent work, but until they secure that type of working they are available for temporary assignments. Irrespective of their personal circumstances these workers bring flexibility, knowledge, insights and experience into new ways of working, which they have learnt throughout their professional lives.
Temporary workers are being used in this advisory capacity across Aberdeen city and shire to improve business processes and develop permanent staff members through training and coaching.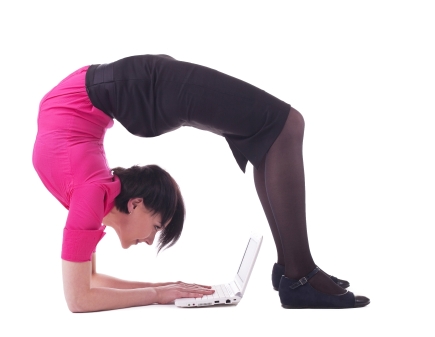 Temporary and flexible working doesn't mean you have to be good at yoga.
Tapping in to this temporary talent network is very straightforward because we manage every stage of the hiring process by:

responsively short-listing relevantly experienced and qualified workers for your particular need
offering pre-screened and reference checked workers
managing payroll processing, payments and enquiries
if the placement extends beyond 12 weeks we manage all the agency worker regulation and pension contribution paperwork too.
Temporary working is smart working and we are undertaking it across all our specialisms.To find out how you can tap in to this advisory talent contact any of our recruitment consultants on T 01224 327 000.