Talented Pupils' Artwork To Be Displayed In The Scottish Parliament
2nd May 2018
A multi-talented Dyce Academy youngster is one of several Aberdeen school pupils to have their artwork - and future aspirations - showcased in the Scottish Parliament this June.
12-year-old Josh McPherson entered Thorpe Molloy Recruitment's "My Future Aspirations" competition which challenged local pupils to convey their career dreams through art. Josh, who undertakes classes with Scottish Ballet after winning a prestigious scholarship, drew himself dancing and came up trumps again.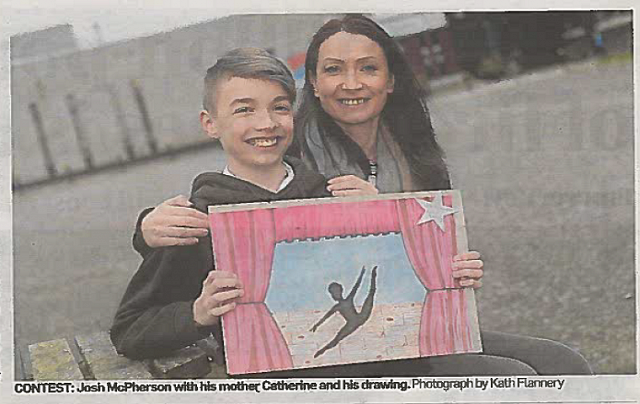 The dancing Dyce pupil's work will go on display w/c 18 June alongside that of Hazlehead Academy's Ellie Ross-Sutherland (13) who wants to be a gaming designer, Holly Fong (12) of Oldmachar Academy whose aspiration is for a career in art, and a trio of pupils from Aberdeen Grammar School, Georgia Kewitz (13), Winnie Kwan (13) and Donnie Scott (13) who wish to pursue careers in art, music and marine biology respectively.
Their artwork will be joined by that of Nadav Libman (13), who attends Robert Gordon's College, Maria Guz (13) of St Margaret's School, Trisha Shenoy (13) of the International School as well as work by pupils attending Aberdeenshire academies: Portlethen, Alford, The Gordon Schools, Banff, Dyce and Banchory.
Josh, who would love to pursue a future career with Scottish Ballet, said: "Drawing and Dancing are both passions of mine and this competition meant I was able to bring them both together.
"I love the rush of performing and the accomplishment of achieving something, so for me I would love my future to be in the Arts. My art teacher was keen for me to be involved and I'm glad she persuaded me to enter."
The youngster is excited to see his work at the Scottish Parliament. "I am proud that the drawing of me dancing has been recognised. I want people to know that boys can be dancers and be proud to be in the arts."
Councillor John Wheeler, Education Operational Delivery Convener, said: "This is a tremendous achievement by Josh and, indeed, all the pupils. It would be fantastic to see them continue to develop their talents in their chosen fields over the coming years."
Debra Reed, Josh's Art Teacher, said: "I am absolutely delighted for Josh and the fact he grasped this opportunity with both hands and created a mature piece of work."
Judith Thorpe of Thorpe Molloy Recruitment Ltd, stated: "Our competition creates an opportunity for pupils to think seriously about what they might want to do in the future and it demonstrates the ambition they have to pursue diverse careers which are full of inspiration."
Head Teacher, Lesley Adams, said of the Josh's work: "We are incredibly proud of Josh McPherson's achievement in being awarded a certificate of excellence and absolutely thrilled that he has the opportunity to display his talent in such a high profile venue. His talent and expression of hope for the future have certainly lifted our spirits. Fabulous work Josh."
Josh was not the only Dyce Academy success story of the competition as several other students from S1 and S2 received Certificates of Achievements for their entries; Lewis Cumming, Lucy Cooper, Jodie Gordon, Tiegan Rennie, Ayra Ahmad and Katie Cifuentes, while Daisy Rennie achieved Certificate of Commendation.
The Dyce Academy pupils were joined by fellow certificate achievers from Aberdeen city and shire schools.
This story was published by the Press and Journal and also featured in the Evening Express.