Jobs Growth At Thorpe Molloy Recruitment
22nd May 2018
Managing Director, Amanda McCulloch, announces today the appointment of four new, full-time consultants at recruitment agency Thorpe Molloy Recruitment Ltd.
"We are very pleased to be able to demonstrate a commitment to our business development plans through headcount growth.
"Callum Robertson joins our Accountancy and Finance team, bringing the number of recruiters in this specialism to 6, with more than 50 years' recruitment experience between them."
"Responding to an increase in activity for administration and facilities staff, Jess Stephen expands our Office Personnel team and recognising the importance of investing in our HR specialism, Caitlin Taylor joins HR recruiter, Chris Carr."
"The appointment of Karys Bain to our Supply Chain and Contracts team is in response to an upturn in activity across the oil and gas supply chain where we are experiencing a marked shift in demand for contracts, internal sales, logistics and procurement professionals."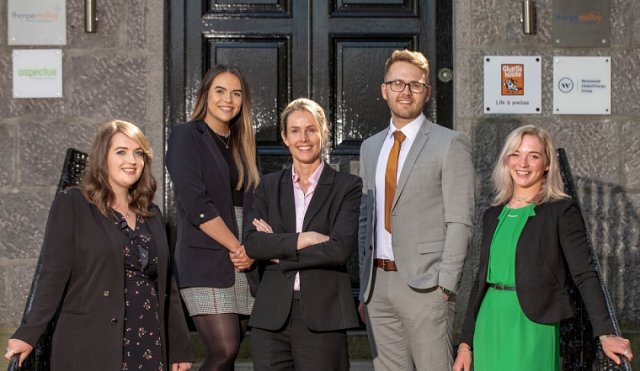 L - R: Caitlin Taylor, Karys Bain, Amanda McCulloch, Callum Robertson, Jess Stephen
"We've found the investment has been really motivating for the rest of the team. As well as facilitating personal development through exposure to training and staff management we now have the necessary resource to maximise our existing client relationships whilst pursuing new business opportunities. We remain fully focused on upholding our commitment to customer service excellence and attaining the highest standard of recruitment practice."
"It has been a promising start to the year, with fee growth up 19% on this time in 2017, driven by full-time appointments to fill skills gaps and interim project specific placements."
The company has further strengthened its resourcing capabilities by investing in Thomas International psychometric assessment tools: Personal Profile Analysis and High Performance Trait Indicator.
"Effective candidate selection takes into account behaviours, attitudes and skills. By enhancing the choice of tools available to clients we intend to reinforce our reputation as a valued service provider that de-risks the hiring process for its customers. These cost effective, powerful psychometric tools are appropriate across all appointments, but I believe clients will realise the most value by using them to differentiate between candidates where skills and experience are closely aligned and for leadership appointments."