Why GDPR Is Good For The Recruitment Industry
15th June 2018
I started my career in recruitment in 1998 and as a keen graduate recruiter I quickly learned the relationship between the quality of my network and my business reputation. Twenty years on my network has been cultivated over countless meaningful conversations, networking events, personal referrals and hard work. To me, it is irreplaceable.
So, when I first heard about GDPR implementation I admit, I took a sharp intake of breath. It felt like there was so much to do in the run up to 25th May and my precious database of contacts was going to be subjected to some serious house-keeping.
But then I started to think about how GDPR is actually good news for the profession I chose because it clearly differentiates between good and bad recruitment practice. As a piece of human rights legislation it tackles the thorny issue of distrust and I've grown to like the alternative acronym "Give Data Proper Respect". Through GDPR and an individual's right to exercise control over their own data, candidates will benefit from better communication and, ultimately, better service.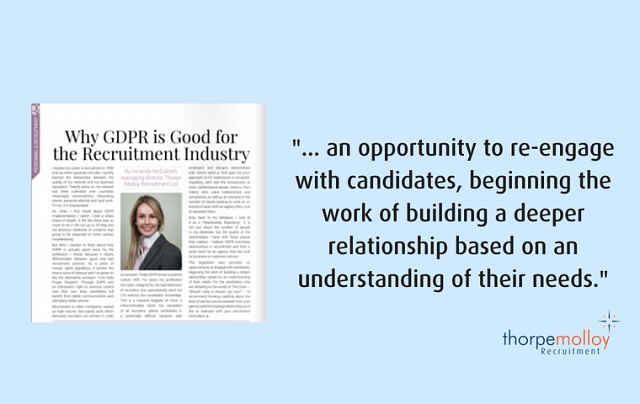 Recruitment is often mistakenly viewed as high volume, fast paced work which demands recruiters cut corners in order to succeed. I hope GDPR drives a positive culture shift. For years my profession has been maligned by the bad behaviour of recruiters who speculatively send out CVs without the candidates' knowledge. This is a massive bug bear of mine. It indiscriminately taints the reputation of all recruiters, places candidates in a potentially difficult situation with employers and disrupts relationships with clients when a "first past the post" approach to CV submission is accepted. Hopefully, we'll see the introduction of more performance based metrics from clients who value relationships and compliance, as well as an increase in the number of clients seeking to work on an exclusive basis with an agency they trust to represent them.
Now, back to my database. I look at it as a Relationship Repository. It is not just about the number of people in my database but the quality of the relationships I have with those people that matters. I believe GDPR prioritises relationships in recruitment and that is great news for an agency that has built its business on customer service.
The legislation also provides an opportunity to re-engage with candidates, beginning the work of building a deeper relationship based on an understanding of their needs. For the candidates who are debating to the words of The Clash, "Should I Stay Or Should I Go Now?" I'd recommend thinking carefully about the level of service you've received from your agency and the ongoing relationship you'd like to maintain with your recruitment consultant.
This article also appeared in the June edition of Business Now magazine.