Thorpe Molloy Recruitment is a winner at the 2018 IRP Awards
3rd December 2018
Aberdeen recruitment agency, Thorpe Molloy Recruitment, declared Corporate and Social Responsibility Practitioners of the Year at the Institute of Recruitment Professionals (IRP) annual awards ceremony.
The activity which secured the win for Thorpe Molloy Recruitment is its art competition, My Future Aspirations. Launched in 2009 the competition challenges pupils in S1 and S2 to think about their future aspirations, producing a self-portrait which expresses their career hopes for the future.
Amanda McCulloch, Managing Director of Thorpe Molloy Recruitment, explains, "At first glance My Future Aspirations could be assumed to be an art competition exclusively, because it celebrates creative and artistic talent of the region's young people. But it is also an inclusive project that has relevance to the real world of work because we ask pupils to think about the questions which are crucial for a skilled future workforce, but which tax many of us "Where do my talents lie?" "What would I like to learn?" "What career do I want?""
"The focus on aspirations touches a highly topical subject – the need for training and skills for young people, providing opportunities for all, irrespective of social background, and caring about our region's ability to retain its local young talent through rewarding career opportunities."
"Over the years we have collaborated with a range of public and private sector businesses to create experiences for the young people who enter the competition. Most recently this has included the British Dyslexic Society, Greyhope Bay, The Archie Foundation and Developing The Young Workforce #inspireageneration."
"It is very important to Thorpe Molloy Recruitment that we contribute to the local community in which we work and I hope that our socially responsible work differentiates us, reinforcing our reputation as a recruitment company that works ethically, with purpose and authenticity."
Meet the fantastic finalists who helped us win this award.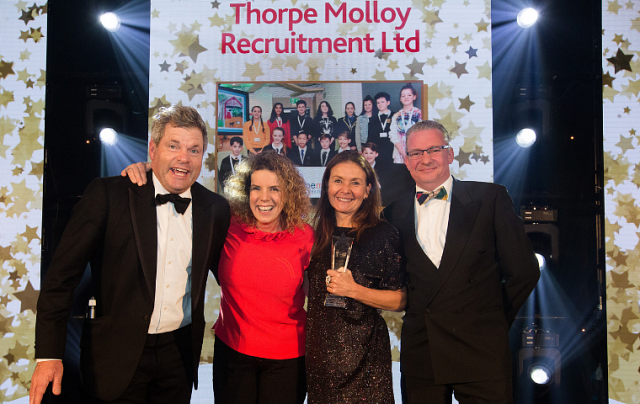 L to R: Event host BBC's Mark Durden-Smith, Thorpe Molloy Directors Judith Thorpe & Karen Molloy, Richard Charnock, REC Head of Products & Services

REC chief executive Neil Carberry said: "The awards are a celebration of everything that is brilliant about our industry. Being shortlisted for the IRP Awards is a huge achievement and a cause for celebration, well done to all who were shortlisted and highly commended. To those of you who have made it into the winner's hall of fame, congratulations!"