Accountancy & Finance Market Update
19th February 2019
Those of us working in Accountancy and Finance recruitment have enjoyed a healthy start to the year. I'm not referencing the noble pursuit of dry-January or Veganuary challenges but the demand from clients recruiting for accountancy and finance skills. Despite unprecedented political upheaval just a matter of weeks away, our clients are taking a considered and pragmatic approach to resourcing and this has led to healthy year on year job volume growth, as we manage 20% more assignments than this time last year.
Some of the increased activity can be attributed to temporary assignments that relate to financial year end reporting – additional resources hired to alleviate, to some extent, the late-night working associated with this time of year for every accountant. Encouragingly, team growth, promoted post replacements and succession planning permanent placements are being made too. Increased candidate confidence is generating movement so even for businesses where headcount is static, there is recruitment activity to fill the positions that have been vacated.
The spectre of a shortage of skills is beginning to emerge as vacant positions rise in conjunction with the number of immediately available candidates sharply diminishing. At present it is affecting the usual suspects of personal tax, corporate tax, internal audit and statutory accounting. Newly qualified accountants and those in their final year of study are enjoying a "purple patch" of popularity and it is at this mid-tier level that we most frequently encounter candidates considering multiple job offers or seeking guidance on counter-offers. Recognising that the counter-offer culture is a short-term fix that rarely results in a long-term solution, energy clients are beginning to appreciate the benefits of a more diverse professional background, considering candidates who have worked in sectors other than oil and gas (including relocators) and who have relevant and transferrable skills.
There is also an increase in the number of transactional accounting opportunities with an upsurge in the number of Finance Assistant, Accounts Receivable and Accounts Payable positions. Our opinion for this pattern of recruitment is that companies are restructuring finance teams, creating promoted post opportunities for recently qualified accountants which in turn creates back-fill vacancies at a more junior level.
An interesting question relating to the skills shortage is the extent to which it will be alleviated by technology adoption. In the media, traditional accounting tasks are often cited as the most at risk of obsolescence through automation, in as little as 15 years.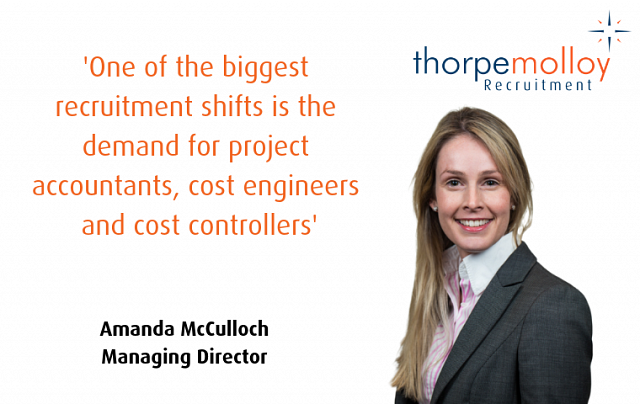 One of the biggest recruitment shifts is the demand for Project Accountants, Cost Engineers and Cost Controllers. These were among the finance roles most at risk of redundancy during the downturn. Those who lost their jobs sought employment in other sectors, often in a different finance discipline, but they are gravitating back to oil and gas now. This is also a buoyant time for payroll professionals. This work is no longer being absorbed within finance teams, but is being recruited as an autonomous role.
There's no doubt, those working in industry have had a tumultuous few years, assuming increasingly heavy workloads through a climate where salaries remained flat and, in some cases, benefits were cut and training side-lined. Sensing a change in fortunes, passive job seekers have become much more active and receptive, re-engaging with the job search process and their own career development. Future attrition could be relatively high if the aspirations of these professionals are not met, and there is a window of opportunity now for employers to manage their retention as well as their recruitment practices.
In some cases, candidates are becoming disillusioned during the hiring process. With the intention of injecting additional due diligence to the process, they are required to go through multiple (4 or more) interviews with different personnel in an organisation. This may provide greater insight for all parties but it certainly protracts the hiring process, with the potential to turn an enthused candidate into a frustrated one – not a great start to onboarding.
Despite increased activity at the senior end of the market (CFO, FD positions), executives who are in post remain cautious about making a move.
Despite increased activity at the senior end of the market (CFO, FD positions), executives who are in post remain cautious about making a move and those who are not under contract of employment are playing it "canny", taking a measured approach to their next job choice.
Employers remain very particular in their hiring requirements, seeking the "perfect" applicant. There's a real dichotomy here as a lack of flexibility often impedes diversity and dismisses candidate profiles that could be a great culture fit. Protracting the process further, and a particular frustration for candidates, is the difficulty leadership teams can have defining the skills and attributes they actually require in a rapidly evolving business environment.
Interim executive assignments have related to business-critical efficiency, service improvements, strategy and data room management while permanent board positions are the result of re-structuring activity, growth or the deployment of a new business strategy.
2019 has started optimistically, and I believe this sentiment will continue throughout the year. But particular challenges face employers recruiting for niche skills sets and those searching for a new CFO, a role with an expansive remit encompassing regulation and reporting, technology adoption, risk mitigation, strategy, stakeholder management and talent development in their own discipline. This creates opportunity and challenge for recruitment partners – it's going to be a very interesting year.
This article was also published in the Oil and Gas Vision Jobs newspaper.