Recruiters Take Steps To Support Mental Health Aberdeen
17th May 2019
Motivated Thorpe Molloy Recruitment takes on the iconic Three Peaks Challenge in support of Mental Health Aberdeen (MHA).
With only 3 weeks to go the scale of the challenge is looming large. It involves reaching the summits of the highest peaks in Scotland, England and Wales – Ben Nevis, Scafell Pike and Mount Snowdon - covering the 23 miles walking distance, 462 miles drive and 3,064m ascent within 24 hours.
"Our team unanimously voted to fundraise for Mental Health Aberdeen after learning about the urgent need for the charity's counselling services during a lunch and learn presentation from Chief Executive, Astrid Whyte." explains director, Karen Molloy.
One in three people in Scotland will experience mental ill-health at some point in their lives, that means we all know someone who will need support. It's during these times that MHA can offer vital help towards recovery through its counselling services and talking therapies.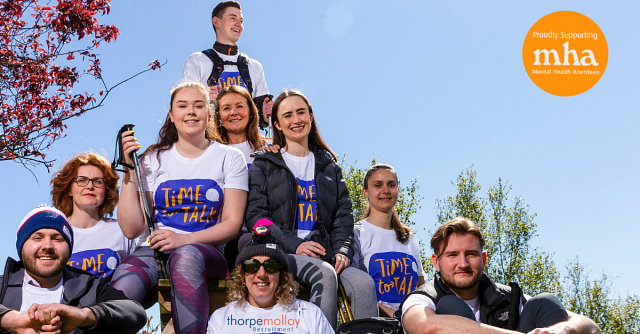 While mental health awareness is growing, so too is the demand for support services. During last year's Scottish Mental Health Awareness Week the ACIS (Aberdeen Counselling and Information Service) information line took 800 calls, 148 of those came from young people.
Karen continues, "We hope to raise the £12,000 required for MHA to provide a fully trained youth counsellor within the ACIS Youth hub for a year, enabling an additional 68 young people to receive counselling."
"It's going to be a tough challenge. The lack of sleep, potential for injury and the vagaries of the British weather are weighing heavily on my mind. But there have already been so many positive experiences. The team spirit is fantastic, we share training routes and advice but the additional exercise from the pretty rigorous training programme is also having a beneficial impact on our wellbeing, with everyone commenting on how much more energetic and optimistic they feel."
This is a self-funded trip, so all donations will go to MHA. What will your money pay for? A donation of £20 provides for 30 minutes of counselling time. If you'd like to support MHA please visit the Thorpe Molloy Recruitment donation page: justgiving.com/fundraising/tmr-12000-for-mha.