Building A Career
3rd July 2019
Jemma Sykes is woman succeeding in a traditionally male dominated profession. Winner of the Trades Awards Apprentice of the Year and Master Builder Awards Scotland Apprentice of the Year, this 27 year old lady is blazing a trail for other young women.
After meeting through the Trades Awards judging process and having the pleasure of presenting Jemma with her award our Trades recruiter, Paul Duthie, asked Jemma to take a little time out to share her story and explain her thoughts on how more women could excel in a trades profession.
Love island watcher? – Yes, in the past but not this year.

Morning or night person? – Bit of both.
Active or couch potato? – Definitely active. My job is pretty physical and I also play for Stonehaven ladies football team, I'm in my third season with them. They're just the best group of girls.
Favourite TV Show – Grey's Anatomy – every episode is an emotional rollercoaster and it makes for a great binge watch.
Dream holiday destination? – I would love to visit Malaysia again, where I have family but I hope to visit Australia one day, either as a holiday destination or for work. #lifegoals
If you could see any musician live who would it be? It has to be Elvis at one of the iconic Las Vegas gigs. Favourite tracks of his are Suspicious Minds and Always On My Mind.
Does anyone in your family work in a trades profession? Yes, my grandad was a builder and he made a big impression on me. Building his own home was an inspiration and it's something that I want to do too.
What's your greatest achievement? Winning the Master Builder Scotland Apprentice of the Year and the Trades Awards Apprentice of the Year on subsequent nights was pretty surreal but now that I'm through to the national finals of the Master Builder Awards I'm hoping to take home the winner's trophy and that would be the ultimate achievement so far - plus I'll get to meet Kevin McLeod, maybe he'll share a few self-build tips.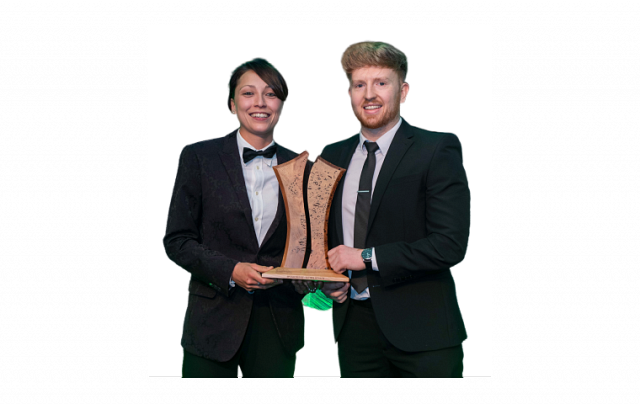 Jemma collecting her Trades Award from Paul Duthie.
What personal attributes make joinery such a good career choice for you? I think I'm really adaptable, I can turn my hand to anything, but I'm also committed, hard-working and love working with wood – which is pretty fundamental for a joiner!
How did you get the apprenticeship at Barratt's? – I studied Woodwork and Design & Technology at school but really struggled to secure anything so I went on to NESCOL and completed the Introduction to Construction course. I worked my a** off there but it was the best thing I could have done as having that on my CV really helped me stand out from all the other apprenticeship applicants.
Why did working for Barratt's appeal to you? – I was really engaged by the fact that Barratt clearly sets out your career path opportunities from Day 1 of the apprenticeship. I'm now in my fourth and final year and, if it interests me, I'll be encouraged to undertake an HNC and then HND in Construction progressing towards management roles, such as site manager eventually. The company's training is also fantastic and I think that is reflected in how well our apprentices do – I'm not the first Barratt apprentice to win an award.
Who has taught you the most at work / who is your mentor? - It is fantastic to have an apprentice champion in Colin Gibb but I'm most grateful to Simon Ross. He's the journeyman I work alongside and has taught me so much.
Share 3 reasons why you love your job? – It's physical, you are constantly problem solving and I've developed many transferrable skills. I love the training I've experienced, during the 4 years I've learned carpentry and joinery skills and I think that makes me a much more accomplished trades person than if my training had focused on a specific role type such as shopfitter.
Is the reputation for lads banter an archaic view of the trades profession? Of course there is banter, but there's banter in every walk of life and it can be a great way of developing rapport with people. I've had my fair share but I can hold my own and give as good as I get! And one thing is for sure, banter is a real leveler, every apprentice should expect banter and I certainly didn't receive any more or less because I was the only girl on site.
What could be done to attract more women to work in trades? It is simple, but it takes time. I think all that needs to happen is that more women who are already working in trades get the opportunity to explain why they chose it as a career; how much they are learning and showcase their skills – that's one of the reasons why I so appreciate being selected for the awards, it has been a great opportunity to demonstrate that there's no reason why women can't thrive in a trades profession.
What are your plans for the future? Definitely build my home one day but in the near future I plan to study for an HNC and follow a path to construction site manager, then I'm going for my boss's job – Construction Director!