Staying Productive During Lockdown
3rd May 2020
Working from home arrangements are normally agreed after a period of consultation. Both employee and employer spend time planning the transition, with clear objectives set and communication arrangements in place.
But that's not how we came to work from home at this time. Chances are the transition was rushed, and we're now living in a period of massive uncertainty, which is incredibly stressful.
Research by Worklytics shows:
An increased number of interruptions from tools like email, Slack, Teams etc is leading to a sharp decline in focus time.
People are working longer hours by around 10-20% on average.
There are more after hours email as the lines between work and personal life blur.
A lot more collaboration but an increasing number of isolated individuals.
Significantly more interaction from managers as they need to check in more often to stay up to date.

There's a lot to deal with. We asked people in our network to share what was helping them stay productive during this time, we've summarised their experience in order of the most effective tactics:
Separate Work And Personal
It can be very difficult to set aside space for work at home, working on the kitchen table and back ache from the kitchen chair becomes tedious! But separating work life from personal life is very important. Suddenly, your commute takes seconds, from room to room. There's not much time to get your head in "work mode".
Create a routine that puts you in "work mode". That might include what time you get up and how you dress. And if possible, dedicate space for your work that can be separate from daily family life.
Thanks to lizandmollie for summing it up perfectly: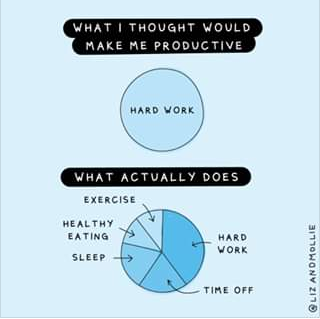 Schedule
Keep a schedule and be as intentional as you can about taking breaks. One of the benefits of working from home is that it can work around family life. But there's more distraction at home right now as we're together 24/7 and also need to factor in unusual circumstances such as home schooling.
Tell your manager what your circumstances are so that they understand the support you need. And be kinder on yourself. Expectations are very different at this time. One thing about the crisis is that we've all had to get real and that can mean being joined by a toddler on a conference call or trying to keep the noise down during the day because your partner is a key worker on night shift.
Communicate your schedule of work, populate a shared calendar so your team mates know when you are available and when you're not. Be detailed and include specific time for when you'd rather not be disturbed because you are dedicating your time to a specific task; when you are taking a break and when your work day ends.
Connection
Despite a plethora of tools to stay in touch, Worklytics research shows that many people feel isolated. If you are a manager, discuss with individual team members how frequently they want a check in and then give them the time to work effectively.
Ensure everyone is clear on their objectives and what their priorities are, but most importantly at this time, don't make your interactions all about work. Encourage employees to take time during work to call a colleague to talk about something other than work, simply to ask how they are.
Video calls are a great way to stay connected, but if groups become larger than 4 or 5 not every voice on the call can be heard, with people, and their contributions, being overlooked. Set aside time for 1:1 calls too.
Choose Your Channel
In an effort to stay connected we can actually over do it. Phone, email, instant messaging, online groups, video chat. Where did I see that message, was it in WhatsApp or Messenger? You can understand that it is really easy to miss important pieces of information. Arggghhhh!
Too many options are overwhelming, and really distracting too. Provide guidance on what each tool is to be used for. Some are ideal for social interactions, but others should be selected for important work only interactions.
Anxiety And Stress Busting
It just might be possible that more of us will become healthier during this crisis. When we asked people what they were doing to stay motivated and in a good mindset the resounding response was exercise (mind you there was also a fair amount of wine drinking!)
Not just good for our hearts and minds we can concentrate and sleep better too. For others it was hobbies, cooking, keeping in touch with family and even housework that was working for them. Something all the responses had in common was the importance of setting tasks and personal goals each day.