CodeClan Launches Career Changing Training In Aberdeen
15th September 2020
In partnership with Thorpe Molloy McCulloch Recruitment, CodeClan brings its most popular course, the Professional Software Development programme, to Aberdeen.
CodeClan is on a mission to bridge the digital skills gap. Scotland's first accredited digital skills academy has operations in Edinburgh, Glasgow and Inverness, with over 1,000 students having graduated through their immersive training courses.
The Professional Software Development programme is the first CodeClan programme to launch in Aberdeen and will be delivered as a blend of virtual training with on-site days in Aberdeen. Starting on 2nd November, this training course delivers a solid foundation in key digital skills and will appeal to professionals who are hoping to rapidly reskill, change careers or boost their tech credentials.
Where a business need for software developers has been identified, this programme provides a route to access accredited training for employers, facilitating redeployment and innovation.
The first cohort of Aberdeen students will receive an intensive immersion into the fundamentals of programming in languages including Python, JavaScript and Java; apply learning using industry standard tools, processes and frameworks; develop confidence to become a professional software developer and access careers advice.
In Scotland there is a significant digital skills gap – which could mean a career changing opportunity for professionals who are considering their longer term future or reskilling.
Whether you want to become a software developer or broaden your digital skills the Professional Software Development programme is a great place to start.
CodeClan CEO Melinda Matthews-Clarkson said: "We are tremendously excited to launch our first course in Aberdeen. The Professional Software Development programme is SQA accredited and award winning so students can be assured of the high quality teaching.
"But more important than this, by working in consultation with our industry partners we deliver a course which is constantly evolving, provides applied learning to real life projects and produces effective, job-ready graduates who can deliver immediate value for employers."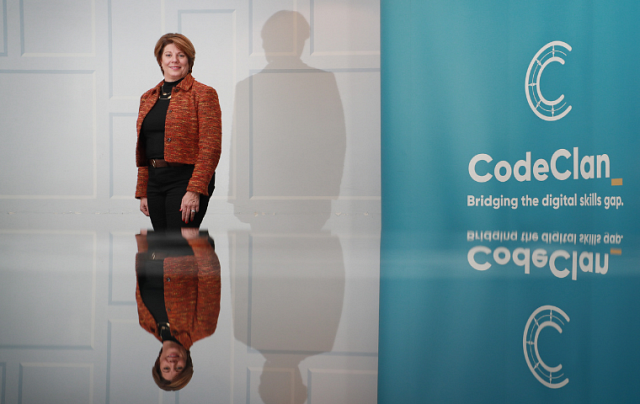 CodeClan CEO Melinda Matthews-Clarkson

Judith Thorpe, Director at Thorpe Molloy McCulloch Recruitment comments, "Our business community is seeking ways to future-proof the economic prosperity of the region. We believe digital and technical skills development are a critical part of the solution. By working in partnership, we hope to raise awareness of CodeClan in the north east, help to source its first cohort of professionals in Aberdeen and be part of an initiative centred around talent development and employability."
Applications are now open to join the first cohort of Aberdeen students. Apply today or register for our upcoming webinar, which is exclusively for Aberdeen and in partnership with TMM Recruitment, on 22nd September.
During the webinar you'll meet CodeClan instructors and find out more about the curriculum. As well as an informal Q&A you'll learn about careers support for graduates and the careers graduates have transitioned into.
Applications close on 5th October.
Steph Paterson, Head of Admissions CodeClan: E stephanie.paterson@codeclan.com
Judith Thorpe, Director, TMM Recruitment: E jthorpe@tmmrecruitment.com