Bursting With Ambition
5th July 2021
What do you want to be when you grow up?
That's basically the question we ask in our art competition, My Future Aspirations.
We've been running this initiative since 2009, challenging S1 and S2 pupils from Aberdeen and Aberdeenshire to convey their career dreams by creating a self-portrait.
With the additional demands placed upon educators and young people throughout the COVID-19 pandemic we were delighted to discover that some local schools still had the time, energy, and resources to participate this year, which was amazing.
Of course, things had to be a little different. We tweaked the submission process to receive only digital photographs of each A4 portrait and missed the anticipation of models, sculpture, and all manner of pencil, crayon and painted entries being delivered to the TMM Recruitment office.
There was no gathering of a judging panel either. Instead, we relied solely on The People's Choice, inviting the public to vote for their favourite with a like or love on a specially curated Facebook photo album.
COVID-19 certainly did not diminish the creativity and ambition of the northeast's young people with careers ranging from psychologist, carpenter, cross-country skier, plastic surgeon, police officer, architect – and so much more.
A strong theme is a desire to help others and if you have time to peruse the My Future Aspirations 2021 album (available to view until end September) you can enjoy the portraits, pupil narratives, and comments of appreciation left by those who voted in The People's Choice.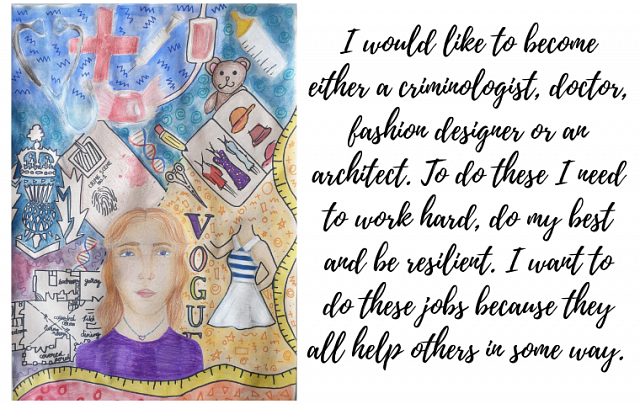 Brooke Tait, Banff Academy 2021 People's Choice