Recruitment Campaign With shmu
30th September 2021
In this case study we explain how we supported shmu recruit talented people for key roles across the organisation. Read on to discover how we made a difference, you'll also find advice that will support good recruitment in your organisation too.
The Business Case
shmu is on a mission to use media to creatively transform lives. One of the core cultural organisations in the north east, it is at the forefront of community media development in Scotland, supporting residents in the seven regeneration areas of Aberdeen in radio and video production, traditional and online publications, music production, and digital inclusion.
To help realise shmu's growth plans, there was an immediate need to recruit for 8 high impact roles:
Web Designer
Communications Officer
Project Administrator
North East Culture Collective Programme Coordinator
Employability Support Worker
Digital CONNECT Coordinator
Digital CONNECT Development Worker
Creative and Digital Media Trainer


Couldn't shmu manage its own recruitment?
Of course, but just because you can doesn't mean you should. Consider whether it's the best use of your resources to do it yourself and whether you'll achieve the best outcome by going it alone. Emma Rutherford managed the recruitment process:
"Managing the recruitment of many roles simultaneously absorbs a huge amount of management time. Engaging TMM Recruitment was the equivalent of being gifted back several productive hours a day, enabling the shmu team to focus on their own jobs, confident in the knowledge that the recruitment campaign was managed by a virtual extension of their in-house team."
How We Worked Together
The breadth of shmu's impact is remarkable and, way before discussing the actual job roles, the first thing we had to do was gain an overview of the discrete services to help build a picture of the whole organisation.
Discussing language and process was essential to ensure we really did understand each other and avoid assumptions that would lead to confusion or misplaced expectations (and ultimately disappointment) down the line.
We held 2 virtual meetings with Murray Dawson (Chief Executive) and Chrissie Simpson (Support Team Manager) and they were productive sessions that felt more like a collaborative workshop as we listened to the requirements before suggesting how we'd run the campaign.
Very quickly it became apparent that the brand is synonymous with creativity and community. We'd repeatedly refer back to this when writing the job adverts, creating imagery and discussing the jobs with prospective applicants.
Murray Dawson, shmu Chief Executive:
"The meetings were specifically tailored to our needs and I could visualise the partnership working well. I felt reassured that Emma understood our culture and values and would communicate with prospective applicants in a way that reflected our ethos while providing them with a good recruitment experience."
shmu prepared comprehensive organisation background and job description documents for each role. We sent these as info packs to applicants when they first noted an interest in a specific role. These valuable resources shaped how we wrote the job adverts to appeal to people searching for purpose in their work, a desire to make a difference.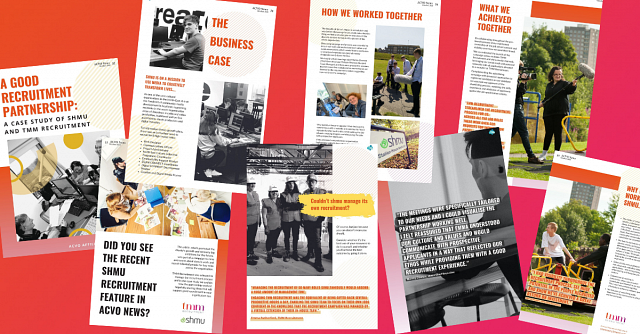 What We Achieved Together
By collaborating throughout the pre-launch process shmu maintained ownership of the job advert content and visibility over how we used their brand.
We coordinated the launch of the campaign across multiple TMM Recruitment and shmu media channels, leveraging our social reach and personal networks with all applications directed to a single point of contact - Emma.
Complementing the advertising campaign with proactive approaches to registered candidates on our database we assumed management of the shortlisting process, matching the skills, experience, and attributes of applicants against the job specification criteria.
Chrissie Simpson, shmu Support Team Manager:
"TMM Recruitment streamlined the recruitment process for us. Across all the job roles there were over 320 requests for information packs. By segmenting and personalising the process, this volume of interest was rationalised to 24 applicants who we met for interview."
We Loved Working With shmu
The clarity of purpose helped us quickly understand what shmu is all about. Everyone's work is about the same thing – transforming the lives of individuals and communities across north east Scotland and supported meaningful conversations with the candidates we targeted.
We had the latitude to create job adverts that used language that differentiated shmu. Generic job ads often don't convey a sense of the culture or team. These job ads focused on the attributes shmu was looking for as well as the skills and experience.
Salary details were published for each role along with a deadline date for applications – this transparency is often lacking and frustrates job seekers.
Experienced at working in partnership, shmu was an active contributor and listened to our advice. This meant we worked together efficiently to achieve a common goal.
We felt part of something really important to the community in which we live and work.
Murray Dawson, shmu Chief Executive:
"I had visibility throughout the recruitment process, see huge potential in the people recruited and know we've achieved a great return on investment."
This case study also features in the October 2021 ACVO newsletter.